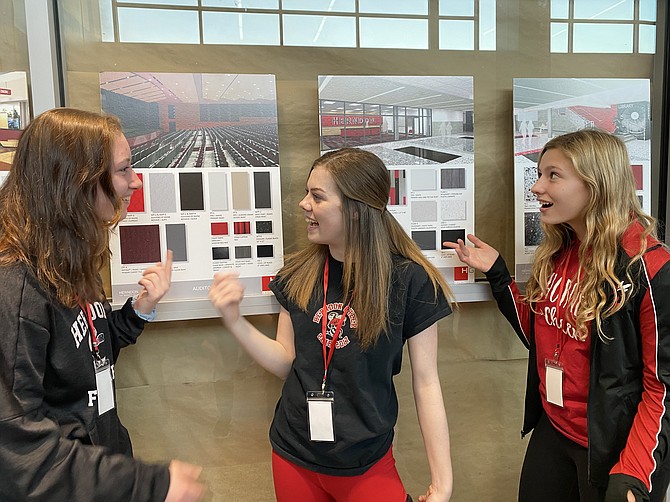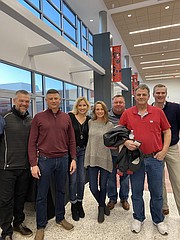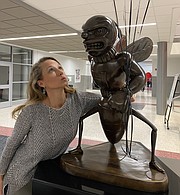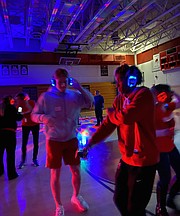 It's down and out for the Herndon High School gym. Herndon High is entering Phase 2 of its major four-phase addition and modification construction. To wish the gym a fine farewell, the Herndon High School Sports Boosters held a Goodbye Gym Party Saturday, March 7. "All proceeds will go to outfit the newly renovated athletic facilities," said Herndon High School Sports Booster President Amy Emmatty.
Phase 2 includes the renovation of the locker rooms, art rooms and Gourmet Foods room; expansion of the main gym and renovation of the auxiliary gym according to Fairfax County Public Schools. When all four phases of work are completed, the school will increase to 431,000 square feet with a capacity for 2,500 students allowing it to reflect current district standards and add green building technology and stormwater facilities to the existing school. The project was approved as part of the Fairfax County Public Schools Fiscal Year 2017-2021 Capital Improvement Program.
DURING THE GOODBYE PARTY, former and current Herndon High Hornets, family members and fans sought each other out to share memories and hopes for the school's future. Many, like Jeff Sevila, Class of '91, sported their classic piece of high school fashion, the red Herndon High letterman jacket emblazoned with sports, music and academic pins. Sevila said he lettered in football and baseball. As for his memories, he recalled his most embarrassing moment. "Getting caught throwing Super Balls at the South Lakes High School Cheerleaders when they took the court in 1990. We were all called down and had to write an apology letter to the SLHS cheerleaders," he said.
For Sevila, Herndon High is not just his memory; it is family history, past, present and future. Sevila brought wife Jessica and Herndon High daughters Caroline, Class of 2019; Izzie, Class of 2022; and Faith Class of 2027. Son Blake, Class of 2031, could not attend. Sevila said his parents graduated from Herndon High in 1966, and his mother's parents graduated in 1946.
Seeing the iconic bronze Herndon Hornet statue, relocated to "Main Street" at the school's front doors triggered fond memories for Christine "Dalton" Dean, Class of '86. "I was the first Herndon Hornet mascot and made my debut coming out of an ambulance that was driven on the football field," she said.
Ben Farmery, Class of '88, was quick to recall not necessarily his "fondest memory." It involved the annual Homecoming Parade, a Herndon tradition. "Dee Dalton and I were on our Homecoming float. I fell through the cake display and was so embarrassed," he said.
The party featured a silent disco, silent auction, food, raffle and tours of some of the new spaces completed under Phase 1 of the construction, such as the addition to the front of the building and the upper-level light-filled, state of the art science classrooms.
According to Emmatty, 200 people attended the event with funds raised of approximately $7000 as of Monday, March 9. "It was an amazing night, which brought the community together, Herndon grads along with current and future Hornets," said Emmatty.
THE RENOVATION AND ADDITION project for the school, which began in earnest early 2018, is to include 138,558 square feet of additions and modifications that will expand the school to 431,000 square feet with a capacity for 2,500 students.
Phase 1: Add an additional wing to the rear of the building. Add an addition to the front of the building where the new library, main office and administrative and counseling offices will be situated.
Phase 2: Renovate locker rooms, art rooms and Gourmet Foods room. Expand the main gym and renovate the auxiliary gym.
Phase 3: Create a new wrestling/gymnastics room; renovate music rooms and the auditorium. Update baseball and softball structures.
Phase 4: Modify the cafeteria, creating a "food court" design, renovate the stadium press box and complete tennis courts.
To purchase an authentic piece of the court from Herndon High School, visit www.memberplanet.com/s/herndonsportsboosters/hhsgymfloor. Each piece is approximately 2.25 x 8 inches; only 200 pieces will be available.