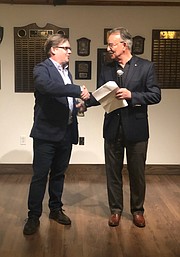 Al Cox, the City of Alexandria's Historic Preservation Manager, was celebrated by a crowd of family, friends and city officials Feb. 7 at the Old Dominion Boat Club as he retires following 28 years overseeing architecture design policies across the city.
"My wife Kathy and I moved here 32 years ago because of the architecture," said Cox, an architect who studied historic preservation in the U.S. and Europe. "But we stayed because of the people."
Originally from Texas, Cox accepted a two-year contract position with the city to help with design guidelines. When that contract was completed, then-City Manager Vola Lawson created a City Architect position that allowed Cox to stay on.
"In losing Al, we are losing a significant amount of institutional knowledge and history," said Mayor Justin Wilson. "The testament of anyone is the legacy they leave behind, and Al Cox is leaving a legacy for generations of Alexandrians into the future."
While Cox does not design buildings himself, he facilitates the process for architects, land use attorneys and developers so that any new projects are compatible with the existing historic architecture.
"Al was the guy who could always get you to 'yes'," said Jody Manor, of Bittersweet catering and Vola's Dockside Grill. "He wanted you to succeed and that is not always the case for local businesses."
Added City Manager Mark Jinks: "Al has had more impact on the city than just historic preservation."
Cox oversaw projects such as the Woodrow Wilson Bridge, Potomac Yard, Jones Point Park and the new Old Dominion Boat Club. He hired famed architect Michael Graves to design the Beatley Central Library.
Cox used the occasion to announce his successor – Bill Conkey will become the city's Historic Preservation Architect when Cox formerly steps down Feb. 28.
"I have always had a passion for historic preservation and design," Cox said. "I am so fortunate to have found my calling here in Alexandria. But it's time for me to let go and let the next generation take over."