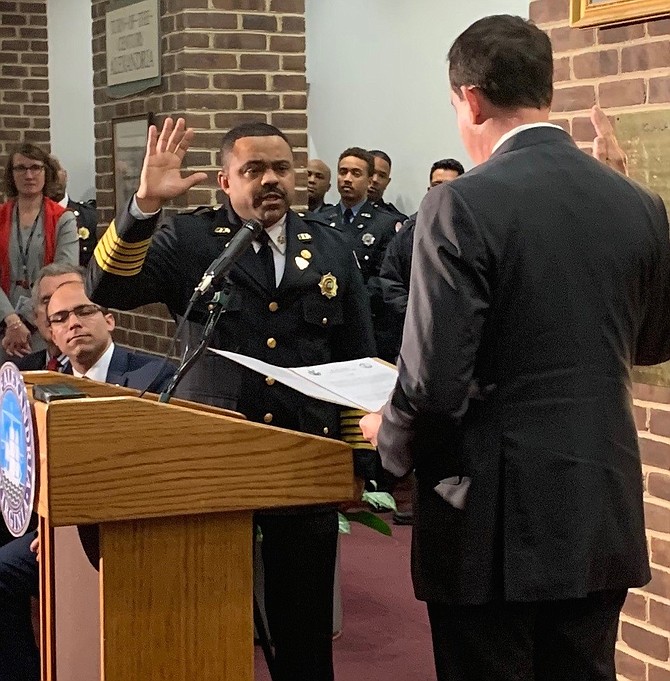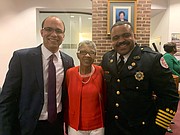 Corey A. Smedley was officially sworn into office as Chief of the Alexandria Fire Department in a standing room only ceremony Jan. 28 in the Vola Lawson Lobby at City Hall.
Smedley, who was named acting Fire Chief following the retirement of Chief Robert Dube last summer, became the city's first African American Fire Chief upon his permanent appointment to the role in December.
"The Alexandria Fire Department is a core function of city government," said City Manager Mark Jinks. "It's important to have someone in charge who embodies the city's values of respect, collaboration, teamwork and integrity and with Chief Smedley we have that all in one package."
Smedley joined the AFD in 2015 following more than 20 years of service with the Prince George's County Fire Department. While there he rose through the ranks from firefighter/paramedic, acting technician, lieutenant, captain, battalion chief, assistant chief and deputy fire chief. He also held roles such as the Special Assistant to the Deputy Chief for Public Safety and Homeland Security, Duty Chief for Emergency Operations, Fire Marshal, FedEx Field Stadium Commander and Special Events Commander.
Following his move to Alexandria, Smedley served as Deputy Chief of the Office of Emergency Management and Homeland Security and Assistant Chief of Administration prior to his appointment as Acting Fire Chief on December 16, 2019.
Smedley holds a Bachelor of Arts degree from the University of the District of Columbia, a Master of Science in Organizational Management from Johns Hopkins University and a Certified Public Manager Credential from George Washington University. He also served in the U.S. Army Reserve. Smedley and his wife, Yolonda share three sons, Christopher and Justin Evans, and Cemille Smedley.
"We're very excited to celebrate Chief Smedley's promotion to Chief of the Alexandria Fire Department," said Mayor Justin Wilson. "Protecting the safety of life and property in our community is one of the most sacred obligations of government. I feel very confident in Chief Smedley's leadership and his stewardship of the department and the men and women who serve."