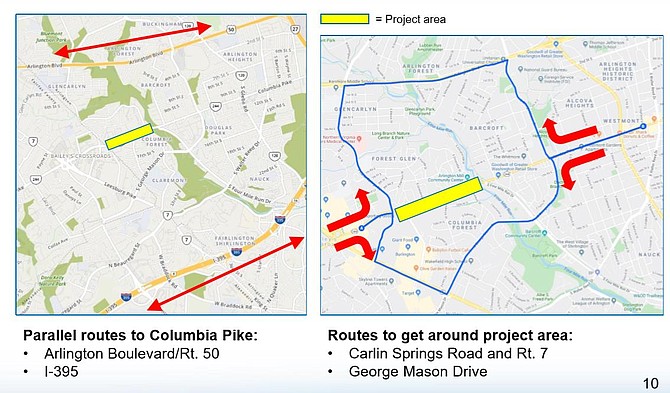 As construction crews unearthed a section of duct work for the "Columbia Pike Utility Undergrounding & Streetscape Improvements," the project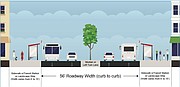 team ran into an unexpected complication with the location of an old duct bank, and this requires a redesign and more money than originally expected. In a Department of Environmental Services presentation, dated Dec. 17, 2019, the engineering complication was presented to the public. On the page titled "What We Found During Construction," engineers "expected an existing duct bank under the travel lanes but its actual location is under the sidewalk where a new duct bank was planned," the slide read.
The impacts of this new development could impact the schedule, increased traffic disruption, and the overall cost of the project.
The contract with Fort Myer Construction will need to be increased by $5.5 million, going from the original price of $17.5 million to $23 million. The additional costs are needed to cover "additional volume and complexity of work resulting from duct bank redesign; additional work crews and extended construction hours; and more complex maintenance of traffic," the county presentation stated. The additional funding will come from other work projects on Columbia Pike and part of segment D from South Garfield Street to the South Quinn Street project.
Also in late December, a new traffic pattern was implemented along the west end of Columbia Pike that is expected to cause additional delays for those travelling through this area. According to information on the Arlington County website, this change is necessary so the project contractor can install a utility duct bank system beneath the eastbound lanes.
For the remainder of 2020, there will be only one lane open between South Jefferson Street and the Four Mile Run bridge, except during weekday morning rush hours.
In addition, there are new "no left turn" signs between South Greenbrier Street and South Dinwiddie Street, to help keep traffic and pedestrians moving safely during construction.
The speed limit in the work zone has been reduced to 25 mph. This change will be in place through the remainder of project construction. Bus stops will be temporarily moved during construction for this project and the "Transit Stations," project.
This work is part of the Columbia Pike multimodal project that will make Columbia Pike a safer, more accessible route for all users, officials said. Arlington is transforming this main thoroughfare into a complete street that balances all modes of travel and supports high-quality, high-frequency transit service.
In addition to visible improvements to the road, extensive work will occur below the roadway – to replace aging and leak-prone water and sewer pipes and to bury existing overhead utilities underground.
Streetscape improvements will include wider sidewalks, new street lights, upgraded traffic signals and "street trees." The project also includes a work of public art for Arlington's western gateway, near Columbia Pike and South Jefferson Street.