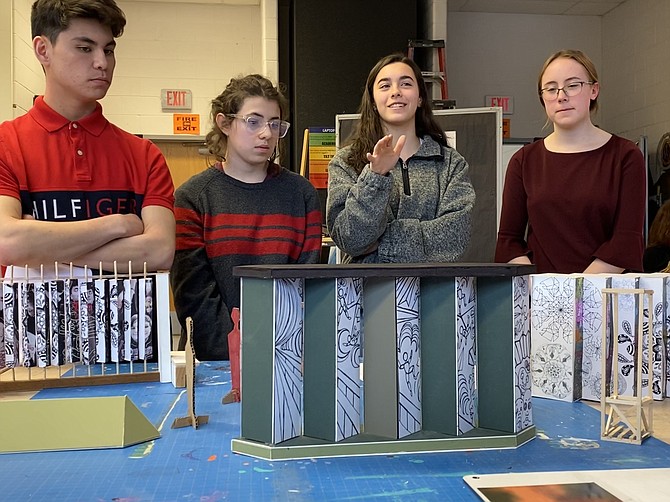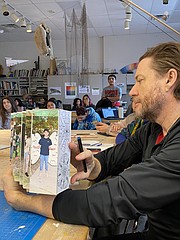 South Lakes High School and Reston Town Center Association are collaborating on a project to deliver a large temporary sculpture envisioned and fabricated by South Lakes students to Reston Town Center this spring. "Their belief and trust in our students through the design process has been amazing," said Principal Kim Retzer.
On Feb. 5, it was showtime and review for final designs created by the STEAM Team students in art classes taught by South Lakes High School teacher Marco Rando. On the tables beside the students sat their three final designs, lenticular maquettes, one a sculpture with spaced columns, the next a solid-form column concept, and the third separate cylinders with negative space between them allowing movement.
According to Rando, the students were learning more than art. "(The project) is building on a foundation of emotional intelligence, which is inextricably tied to the human condition and, therefore, the multiple disciplines of STEAM, science, technology, engineering, arts, and mathematics. Students will build on: resilience – having the ability to bounce back when things are not coming together as planned; open-minded problem solving – when things don't go as planned, students will build on the ability to roll up their sleeves and go back to the drawing board so to speak to resolve problems; communication – research and contacting professionals who can help them solve issues, learning to compromise when group dynamics are in disagreement; caring – taking pride in their work, learning to self-regulate a standard of achievement that affords them confidence to autonomously grow into their potential; and serving – the practice of sharing their achievement with the intent to enrich the community with creative dialogue," Rando said.
AT THE MOMENT, the students' communication skills would be put to the test. In front of them sat nearly a dozen stakeholders and professionals ready to interface with them, ask hard questions and provide comments. Sapna Yathiraj, Boston Properties Regional Marketing Director, Doug Carter, professional architect and member of the Reston Town Center Design Review Board, Anne Delaney, Executive Director of Public Art Reston, Geoffrey Lewis, Chair of Public Art Reston's Public Art Committee and more were ready to review the maquettes.
For the next hour, select students took the professionals on a journey. They showcased the attributes and requirements of the similar but, as they learned, very different lenticular designs with different traits. The students explained how they would keep the sculptures stable on the uneven terrain. "The width is something you've been working with and weights," said Robert Goudie, Executive Director Reston Town Center Association. Students discussed material options, their merits and disadvantages, Dibond-an aluminum composite material, Omega-Bond-a solid core aluminum composite and plywood. After the students proposed weighing down the sculpture columns with sand or water to prevent tip-over, Carter said," Why is it not possible to anchor this properly with some pressure treated timber that could go down."'
THE DIALOGUE continued as students addressed safety, weather, lighting and architectural considerations. One student suggested a climate awareness design. "What you said, I think it is very, very important, said Carter. " If you can incorporate some responsible environmental reaction and incorporate that into your art, I think you should do it."
"The challenges of creating a piece that stands up to both the elements and the rigors of a dynamic, interactive, public space are many, and the students are really rising to meet those challenges," said Goudie. "I think this is an expression of education and community building at its finest."
Principal Kim Retzer expressed her gratitude to Reston Town Center Association for reaching out to SLHS. "We appreciate the area business who are supporting various elements of the final project allowing this idea to become a reality: Reston Town Center Association, Boston Properties, Hyatt at Reston Town Center, Power Services and KCS Landscape Management," she said.
Students' Reflections
David Raw, 16, of Herndon: During the course of this project, architectural and lighting considerations have heavily influenced our concept designs. The student team created a lenticular sculpture design that was able to display four unique images when viewed at different angles. Lighting for our sculpture was also essential, as we wanted our sculpture to be appreciated at night as well as the day. We focused on having an internally lit structure with perforated holes and translucent materials to display an illuminated image at night. We are continuing to experiment with new architectural and lighting designs to create a sculpture that will leave a lasting impression on its viewers.
Mariam Scheik, 16, Reston: The visual that really stuck with our team was many smaller pieces put together as one unit made into a lenticular piece. I love it, everyone expresses themselves individually, all the while being part of a group effort. The model I like the most is the Form model. It's very sleek and simple, but modern. The other concept we introduced is the Column concept, but it has a singular presence as opposed to the Form concept, which blends in with the architecture in the Reston Town Center.
Audrie-Olivia Swanner, 15, of Reston: It wasn't very easy while designing concepts for the sculpture because we had to ensure each and every part of it would survive in different kinds of weather environments. Originally we wanted to have a sculpture with possible moving pieces, but we soon realized that this would cause too many safety hazards. We think a good way to solve these issues would be to make a solid sculpture with minimum pieces while using weather-resistant materials, all making the likelihood of weather damage and safety cautions a lot less likely. The entire process so far has been an adventure, with working altogether and brainstorming all the ways we can make this work.
Laura Echeverri, 15, of Reston: Resilience to me means that you know how to accept mistakes and staying strong by finding a way to be even better. It takes critical thinking and creativity to achieve. During my experience with STEAM Studio, we experienced occasions where we needed to be resilient, and it resulted in innovative concepts for our project. We don't look at complications as a failure; we view it as an opportunity to create even more. Resiliency can be a great source of creativity and inspiration in visual art, and for us, it serves as that purpose. Through this project, I learned how to stay determined and never give up!