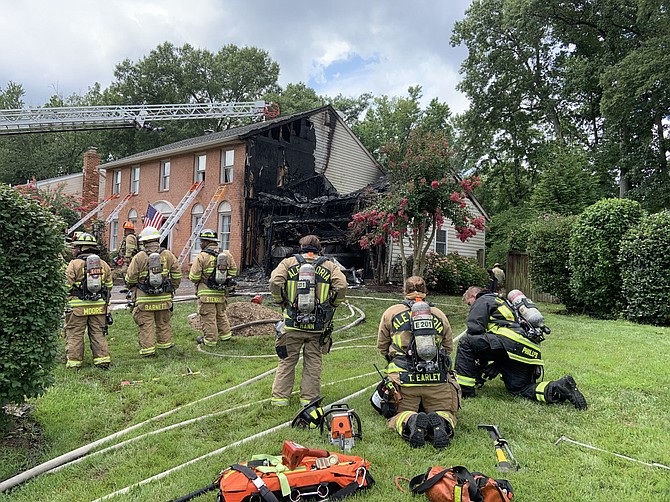 Saturday, Aug. 1, at approximately 11:25 a.m., units from the Fairfax County Fire and Rescue Department and the City of Alexandria Fire Department were dispatched for a reported house fire in the 2100 block of Rampart Drive in the Fort Hunt area of Fairfax County.
Units arrived on the scene of a two-story, single-family home with fire showing from the garage and extending to the attic. Crews were also confronted with a running fuel fire, from a ruptured fuel oil tank in the garage, that involved the driveway, front yard, and a portion of the street. Firefighters quickly brought the fire under control. One unit rapidly contained the fuel spill utilizing diking and damming procedures.
One civilian sustained several dog bite injuries while assisting with the evacuation of a dog. There were no reported firefighter injuries.
One occupant was home at the time of the fire. The fire was discovered when a swimming pool service technician arrived for service and found smoke and fire coming from the attached garage. He alerted the occupant to the fire and assisted with the evacuation of her and a dog. Smoke alarms were present but did not sound due to the location of the fire.
Fire Investigators determined that the fire was accidental in nature and started in the garage. The cause of the fire was an electrical event involving household wiring in the attic space above the garage.
Two occupants were displaced because of the fire. Red Cross assistance was offered and declined. Damages as a result of the fire were approximately $112,000.