When Winston Churchill High School's baseball, softball, and soccer teams come back in 2021 they will be met with some improved surfaces. The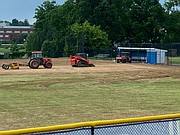 process has begun to put Bermuda on the baseball and softball field along with irrigation. These improvements are being made possible through the help of the Booster Club, KOA Sports and those teams' fundraising efforts. These improvements will include newly graded infields and outfields, irrigation, and Bermuda grass throughout the facility. The work is being done by long term partner, Gameday Inc. and irrigation through RT MacKenzie.
These facility improvements will give the baseball and softball teams amazing playing services but it will also serve to give our soccer teams first class practice areas. This process has been in the works for almost two years, and now finally trucks are out working on the fields.
Once completed, the baseball/softball fields, main stadium, field hockey field, and Tuckerman practice field will all have Bermuda grass playing surfaces and irrigation. The entire process should take about 2 months for the grass to establish itself and be ready for 2021 play.