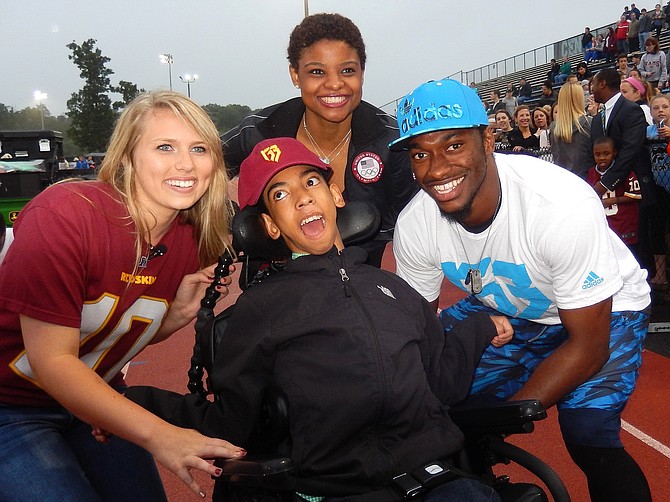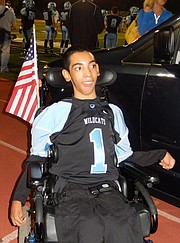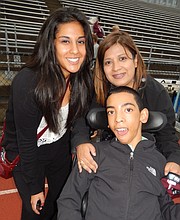 Wheelchair-bound due to cerebral palsy, Centreville's Juwaan Espinal had a zest for life, family, friends and the community that loved him. And his positive attitude and constant smile always brought them joy.
But as time went on, digestive problems caused by his condition worsened, leading to frequent hospital stays and surgeries. And Sunday afternoon, April 19 – just a month shy of his 23rd birthday – this courageous, young man lost his battle.
"I am heartbroken; I still can't believe it," said his mother, Ibis Espinal. "It's the worst thing to see your son's last breath."
Still, she can take comfort knowing she gave him the best and fullest life possible. "I always told him, 'Don't feel sad; God gave you life – enjoy it,'" said Espinal. "My mission was for him not to feel different or excluded from anything."
Her wish came true when Juwaan attended Centreville High. "The acceptance they gave him was awesome," she said. "He had a great support system there – the administrators, teachers, students, coaches, his peers – and that's what makes a family. They treated him like one of their own."
JUWAAN was a huge sports fan. And although he couldn't participate, both the Wildcat varsity and freshman football teams unofficially adopted him. His sophomore year, Varsity Football Coach Chris Haddock gave Juwaan his own jersey, made him co-captain of the first game and gave him the game ball.
And the freshman football team wanted Juwaan at every home game and in the locker room for speeches. It won the championship that year – and the players insisted Juwaan be in their team photos.
He also made a slew of friends at school. Although he was nonverbal, they ate lunch together and chatted via Facebook and texts. He was also close with his sister Shanelle, now 25, who visited him often and took him out to have fun.
As a junior, his hero – then Washington Redskins quarterback Robert Griffin III, at the height of his fame – came to Centreville to help Juwaan's good friend Morgan Assel ask Juwaan to prom. And his senior year, his mother was presented with an accessible van for him, courtesy of the community, Redskin Pierre Garçon and Paisano's Pizza.
The friendships continued after graduation in 2015. And at home, Juwaan enjoyed making TikTok videos, watching his favorite TV shows and Disney movies, snuggling with his three chihuahuas and listening to pop music. Nonetheless, said Espinal, "It was hard on him. He'd see all his friends getting married and running around and would think, 'What life is this?'"
Meanwhile, his health deteriorated, and he was in and out of the hospital with infections and bowel obstructions. Then on April 13, he arched his body and was quiet and lethargic, but told his mom he wasn't in pain. That night, he began throwing up and she rushed him to the hospital.
"The doctors did tests and said something was wrong internally," said Espinal. "The next morning, they operated on him for five or six hours. The doctor said there was a lot of trauma and swelling and Juwaan had a 50-percent chance of survival."
By Friday, April 17, he suffered complications from the surgery and was placed on a ventilator. Early Sunday, April 19, doctors had to remove more of his intestines. But because of COVID-19, his mother couldn't be with him afterward in the Intensive Care Unit.
"Around 11:30 a.m., the doctor called and said, 'We did everything we could, but his intestines died,'" said Espinal. "He told me to 'Come now to say goodbye.' Juwaan wasn't conscious, but he could hear me. We'd FaceTimed on Thursday; and seeing him then, I knew he wasn't going to make it. Shanelle and I told him we loved him, he was the best kid in the world, and we were going to miss him."
He died April 19 at 2:35 p.m. "Some of the doctors called me afterward, in tears," said Espinal. "They knew and loved him; he touched a lot of lives. A boy even messaged me and said, 'I only knew Juwaan from Instagram, but I know what a big Redskin fan he was. So I know he's in heaven playing football with [deceased Redskin] Sean Taylor and being coached by the best coaches in the NFL.'"
Survivors also include his father, Rafael Espinal, and stepdad, Thomas Banks. Because of the virus, just 10 people were at his funeral, last Saturday, but countless others watched via Zoom. And a larger memorial service will be held eventually.
Courtney Thurston, who went with Juwaan to his senior prom, often had lunch with him, visited his classroom and attended his birthday parties. After graduation, they chatted via Facebook. "His smile could light up a room, and he could speak without saying words," she said. "His personality shined through. It was inspiring because everyone takes what they have for granted, but Juwaan never did. He was happy and outgoing."
HIS DEATH caught her by surprise because "He'd been through so much and always came out the other end; he was a fighter." Thurston also created a GoFundMe account called "Juwaan's Medical and Funeral Costs" to help his financially struggling family. She hopes people will honor him by contributing or sharing the link: https://www.gofundme.com/f/juwaan-medical-and-funeral.
Also devastated by his death is Morgan Assel, calling him "the greatest friend you could ever ask for. Even in adulthood, he always reached out to let me know he was there, no matter the distance. And he was one of the funniest people; he spoke through his eyes and body language. I never imagined he'd die so young; the rest of my life won't be the same. And my heart breaks for Ibis and Shanelle."
Assel said she, Shanelle and another close friend of Juwaan's, Mike Wallace, are all getting married within the next year, and it'll be difficult not having Juwaan with them. But, she said, "We'll find a way to honor him. For all of us who loved him, he will never be forgotten. There's no way a spirit that bright cannot live on."