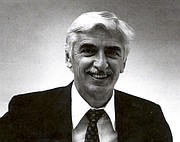 Ronald Lee Taylor passed away peacefully on April 1, 2020. He was born Feb. 9, 1933 in Chicago to Donald M. and LaNore O. Taylor. He was his high school class valedictorian and an excellent athlete. He won a scholarship to Indiana University where he played basketball for four years, including winning the 1953 NCAA national championship. He graduated with a degree in Business in 1954 and, as a member of the Air Force ROTC, he promptly joined the Air Force and served five years as a navigator. He was assigned to McChord Air Force Base in Tacoma, Wash., where he met and married Patricia M. Westbrook, a recent Stanford graduate. He remained in the active and inactive reserve and was discharged in 1969 with the rank of Captain. He had always loved architecture, and in 1958 he entered the architectural program at the University of Oregon, graduating in 1962. After serving for two years in the Central Intelligence Agency's Office of Logistics, he joined a well-known Washington DC architectural firm.

In May of 1965 Mr. Taylor and his wife were one of the first five families to move to the new town of Reston, where he joined a small architectural firm, becoming a partner a few years later. He subsequently started his own firm, Taylor, Garvin Associates where he designed many private homes, town homes (such as Moorings Cluster and Newbridge), schools (South Lakes High and Dogwood Elementary), and recreation centers (Wakefield Park, Va. and White Oak, Silver Spring, Md.). His major projects at the National Zoo included flight cages, leopard cages, the necropsy and quarantine buildings, and the North American Mammal Exhibit.

Mr. Taylor retired in 1991, and he and his wife traveled extensively--to every continent except Antarctica. He never lost his love of sports, and after playing basketball for several years, he then took up tennis, which he played well into his 70s. He is survived by Patricia, his wife of 61 years, five godchildren (Michael Sumner and Julie Sumner Davis both of Bellingham, Wash., Dr. Rachel Ammons Troy of Great Falls, Va., Sarah Ammons Milans of Fairfax, Va., and Michele Mastrovito Beard of Reston), 14 grand godchildren, and many friends. He will be greatly missed.
Mr. Taylor has been cremated and will be interred at Arlington National Cemetery at a later date.