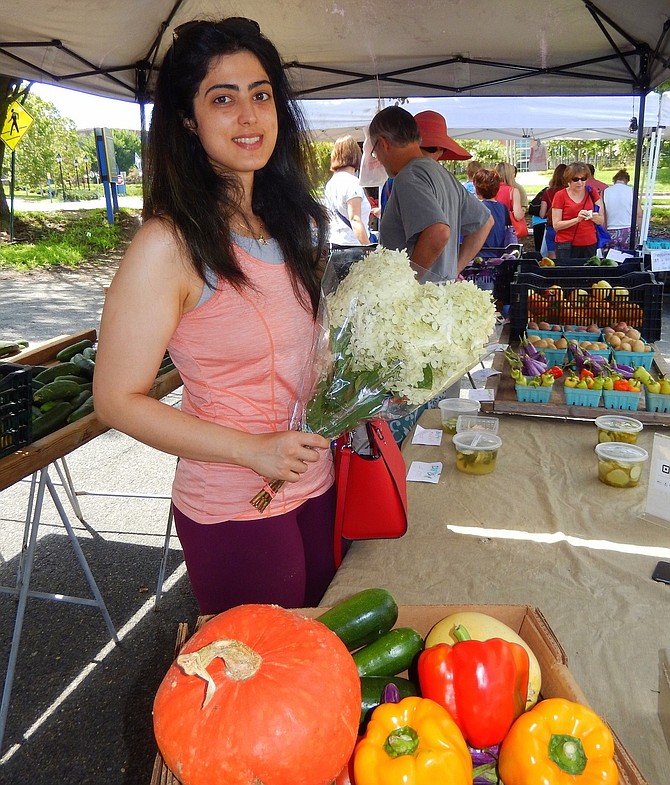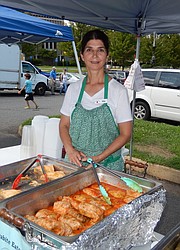 For many people, it's just not the weekend unless they start it with a trip to the Community Farmers Market in Fairfax. Whether they're looking for fruits and vegetables – such as strawberries, peaches, zucchini or bell peppers – or fresh-cut flowers, handmade crafts or lunchtime treats including empanadas, crepes or stuffed grape leaves, they'll find it at the market.
It's sponsored by the Downtown Fairfax Coalition and, for 19 years, Coalition Chairman Eric Snyder has run the Saturday and Sunday markets at 10500 Page Ave. (across from the courthouse). During the Fairfax Fall Festival in October, the vendors are usually on Sager Avenue; and at the City's Holiday Craft Show in November, they're in the expo room – which they started.
But believing they were barred from being part of both the fall festival and craft show, they were hurt and confused. And at the Sept. 24 Fairfax City Council meeting, they made their feelings known.
"We want to know why we were excluded from the fall festival, Sager Avenue and holiday craft show," said Snyder. "About 200 people who attended the market last week – plus 20 Fairfax businesses – signed a petition in favor of the market."
He said some 2,000 people come to the farmers market each weekend. And of that number, about 1,400 are Fairfax City residents, with some 600 driving in from elsewhere. And, said Snyder, "That's the reason the market was created – to bring people into the City to shop."
"There's widespread resident and business support for the farmers market being at the fall festival and holiday craft show," he added. "So it's very unfortunate that some City staff members don't think we belong there. It's a real slap in the face, after all these years." (See sidebar).
SPEAKING NEXT was his wife, Brenda Snyder, who coordinates the vendors' participation in the market. "What egregious act did the Coalition commit to warrant eviction from the shows?" she asked. "I've asked City staff that question and received no satisfactory answer. I'm here tonight to ask that question again."
"We bring these markets to the community – one block from downtown Fairfax – 24 Saturdays and 24 Sundays, every year, and have for decades," she continued. "Eric and I are onsite at every market, rain or shine, in the pouring rain or on 100-degree days."
Brenda Snyder also stressed that the Saturday Market is one of the top-ranked markets in the Washington Metropolitan area by the Washington Business Journal, Washingtonian and Virginia Living Magazine. It was even selected by an online food magazine as one of eight "Must Visit" farmers markets, out of some 300 in the Metro area.
Therefore, she asked the Council, "How can the City not value our contribution to Fairfax? The Saturday market is large, vibrant and diverse; the Sunday market is smaller. These businesses spend their Saturdays and Sundays serving your community. Our markets bring thousands of people to your City. Groups have approached us about relocating to other areas away from Fairfax City, but we like where we are and the community we serve."
Brenda Snyder further noted that 80 percent of the vendors are women-owned businesses, and 30 percent are minority-owned. She also said that, if the vendors are barred from the fall festival or holiday craft show, they'll lose an estimated $100,000. "We hope you will reconsider and include our farmers markets into your events," she said. "It is the right thing to do."
ONE OF THE VENDORS, Patricia Miller, expressed her disappointment, as well. "I was born and raised in the City, and I expect more from it," she said. "You need to realize who you're hurting – all the small businesses who work hard. I help my daughter pay her real-estate taxes through this income."
Vendor Nancy Gardner told the Council, "We all want Fairfax City to be the best it can possibly be. I sell gourmet coffees and teas from Hawaii, and I enjoy what I do. The market and the City have a long relationship and commitment to each other."
Also speaking in favor of the market was resident Jim Wyckoff, saying, "Not only has it helped support the downtown, but it has been a gathering place for its citizens. We encourage you to continue your support of the market."
Stepping to the podium, Audrey Mirsky-Ashby said it was the first time she'd ever spoken at a public meeting. But, she said, "I felt compelled to come and speak on behalf of the people who make this a better community. I'm one of those people who come from outside, to the market, and have been since the beginning."
"The vendors don't know why this is happening – and they depend on the money they make [at the festival and craft show] to get them through the winter," she explained. "They're part of our community, and I don't understand how they can just be disinvited. They're being treated unfairly, and it's too late in the year for them to sign up for other markets."
Fairfax Mayor David Meyer then said any individual vendor who wants to be at the fall festival or holiday craft show can speak with Parks and Rec Director Cathy Salgado. He also asked Stalzer to meet with the Coalition and report back to the Council. Snyder also noted that, regardless of what happens, the regular, Saturday farmers market will still take place at its usual spot on Page Avenue, Oct. 12, from 8 a.m.-1 p.m.
'There's Room for Everybody at the Festival'
Sager Avenue will now highlight City-based businesses.
No one in the City of Fairfax government has anything against the local farmers market or its vendors. Indeed, they're welcome to participate in both the upcoming Fairfax Fall Festival and the Holiday Craft Show.
The problem stems from a difference of opinion between the Downtown Fairfax Coalition – which puts on the weekend farmers markets – and the City's Parks and Recs Department – which puts on the festival and craft show – about who should be on Sager Avenue.
Traditionally, that's where the farmers market vendors were located during the fall festival. But starting this year, the City wants to do something different on Sager so it can promote its own, Fairfax-based businesses there.
And contrary to what the vendors believed, they weren't kicked out of the festival, but just asked to sell their goods in a different location. Hundreds of other vendors line both Main Street and University Drive in Fairfax's downtown during the festival, so the farmers market vendors wouldn't be exiled to an obscure location with no customers.
"They are not and never were excluded," said Fairfax City Manager Rob Stalzer on Monday. "Vendors who'd participated previously were welcome, but they needed to work directly with the Department of Parks and Recreation."
Under its chairman, Eric Snyder, the Downtown Fairfax Coalition runs the Saturday and Sunday farmers markets. And he assumed – and hoped – that this year, as always, his vendors would be on Sager during the fall festival.
However, Parks and Rec Director Cathy Salgado said that, in March, "We told him we were going to be working with the Old Town Fairfax Business Assn. (OTFBA) to have City businesses represented on Sager and that his vendors were welcome to be on University and Main. And we followed up in writing."
But this information wasn't shared with the farmers market vendors – or the market manager, Snyder's wife, Brenda – until recently. And, said Stalzer, "We don't know why that wasn't communicated to the vendors. We want to be fair to everyone."
ON MONDAY, Eric Snyder explained why not. "I was banking on the City changing its position," he said. "Brenda was unaware of this."
"With all the emphasis we have on economic development, the last thing we want is an environment where people don't feel welcome," said Danette Nguyen, with the City's Office of Economic Development. And Salgado added that the market vendors are still included in the Holiday Craft Show, too.
However, there's more to the story, and it involves the difference between the Coalition and the OTFBA in the eyes of the City. "The Downtown Fairfax Coalition is not a City entity," said Salgado. "It hadn't represented City businesses or been active in the City for a number of years, and that's how the OTFBA came about."
She said the Coalition "didn't have a board of directors to pull together all their businesses as a whole to have a unified voice to represent the Old Town Fairfax businesses – and other businesses requested that. The OTFBA has a steering committee and meetings and brings the businesses together for City events. And City businesses and property owners are members of it."
Snyder, though, said he's "in close contact" with the Old Town businesses and they comprise the Coalition's advisory board. He also said he helped jumpstart a rebirth of the OTFBA and is "in touch with the needs of the businesses."
Regarding the fall festival, Salgado said the farmers market vendors were being moved from Sager Avenue because "that's where City businesses were initially supposed to participate, according to an agreement made 20 years ago. But over the years, they'd veered away from that."
But, she added, "We love the farmers market and wanted all its vendors invited to our event. It was just about representing our City businesses. But there's room for everybody at the festival; there's no reason the farmers market vendors can't participate. We still have about 15 spaces left; the vendors were never, ever meant to be excluded."
THOSE WISHING TO PARTICIPATE may email her at cathy.salgado@fairfaxva.gov.
"Having an area where the Old Town businesses are clustered together helps build the business community and also lets these businesses network among themselves," explained Nguyen.
"We're here to promote City businesses," added Salgado. "And with the OTFBA, we've taken it to another level."
As for Eric Snyder, he said on Monday, "I am grateful that the City will let the vendors participate in both shows. But I do not agree with the City decision of excluding the Downtown Fairfax Coalition from the show."
"This could have been handled differently, where the Downtown Fairfax Coalition, Old Town Fairfax Business Assn. and Greater Fairfax Chamber of Commerce were all included in the show," he continued. "Each represents significant elements of Old Town Fairfax. Excluding any one of them does not accurately represent Old Town."
Brenda Snyder said the reason she manages the farmers' market is because "I like to give average, ordinary people a chance to start a business, have an affordable venue to sell [their products] or just be part of a community – and the farmers market is just that. I have known many of these vendors for the 19 years I have been doing this."

She still contends City staff treated her and her husband unfairly, and she has mixed feelings about the outcome. "Our vendors can independently apply to get into the shows, but the entity of the farmers' markets will be missing from them," she said. "And the organization that sponsors the markets – the Downtown Fairfax Coalition – is excluded. But we did succeed – all my vendors will be in the shows – which is all I ever wanted when we started this fight. And I can tell my vendors I fought for them."