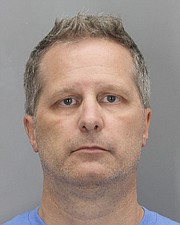 Thanks to his new attorney filing a motion appealing his conviction, former teacher Norman Achin is currently free on bond. But on Nov. 15, he was sentenced to seven months in jail for using a communication device to solicit a minor.
For 30 years, Achin, 52, was a respected FCPS teacher. He taught Latin at Westfield and West Springfield high schools in 2017-2018; before then, he did so at Chantilly and McLean high schools. He even tutored – often in students' homes. But when he solicited an undercover police office online, thinking he was a teenage boy, Achin was arrested, July 23, 2018, and suspended from his job without pay. He was later convicted, Aug. 21, following a nonjury trial in Fairfax County Circuit Court, and returned Nov. 15 for sentencing.
"Up until these events began, you lived a pretty decent life," said Judge Michael Devine. "But then your life took a different turn. It's difficult to reconcile you acting completely out of character, but people do that, all the time."
During Achin's trial, a male police detective with the FCPD's Child Exploitation Unit testified against him. When they connected via the Grindr app, the detective was posing online as a teenager named Alex, hoping to catch predators preying on children. To protect his undercover status, this newspaper is not revealing his identity.
THE DETECTIVE told Achin his father was gone, his mother lived out of state, and his aunt – who worked nights – watched him. He also said he was in high school and would be "15 very soon. I used abbreviations, misspellings and emojis, like teens do, and was kind of emotional." The court heard a phone call between them, saw transcripts of their text messages and Grindr exchanges and also saw a 2-1/2-hour video of the detective's interrogation of Achin following his arrest.
Achin used his middle name, Mike, during their online conversations, which ran from July 11-23, 2018. "I'm very concerned about your age," Achin told "Alex." Achin also asked if they could meet and talk in person. "Just talk?" asked "Alex?" Replied Achin: "Well, maybe more."
"I've never done this before, so I'm nervous," said "Alex." To which Achin answered: "Me, too. I could get in trouble, even for what we've done so far…I'm taking a big risk." They arranged a meeting in a park where, instead, police arrested Achin.
Achin said he wanted to tell "Alex" he was "too young to do this. I was also talking with other people [on Grindr and Tinder] and I got confused between the sites I was on. I didn't want anything from him – 18 or 19 years old, fine – but not a kid." He said he worried that "Alex" might kill himself, so he "wanted to talk to him, maybe as a father figure, because I thought this was a fragile, young man."
However, Achin also sent two photos of himself to "Alex" – one showing his bare torso and abs, and the other, his penis. Saying he could only access Grindr on his phone, not his computer, he told the detective, "I couldn't see the pictures I sent, at times, so sent the wrong pics to the wrong people at the wrong time."
He said he thought he'd sent the penis photo to a man, not "Alex." But Assistant Commonwealth's Attorney Elena Lowe noted that Achin never apologized to "Alex" or said he'd sent it by mistake. "When he sent the picture, he knew who he was talking with, consistent with their text messages," she said. "His statements [about] trying to help this boy were just a cover."
At Achin's sentencing, defense attorney Thomas Walsh said he'd filed a motion to set aside the court's verdict regarding his client. But, said Devine, "I'm satisfied Mr. Achin was properly convicted of the offense and is guilty as charged."
The state sentencing guidelines for this case were three to six months in jail, and Lowe requested Achin serve at least three months "because the offense includes sending a pornographic picture to a minor and arranging to meet him. It shows no good intention. His actions were inconsistent with normal, human behavior with a child."
Walsh read statements from some teachers and a student saying what a good teacher Achin was and his interest in helping students. "I don't believe incarceration is necessary in this case," said Walsh. "And the probation and sex-offender registry will be a nightmare for him, for the rest of his life." Seeking a suspended sentence, Walsh added, "He'll never be a teacher again, and losing his profession after 30 years has been a pretty hard sanction."
THEN, VOICE BREAKING, Achin stood and told the judge, "Much has been made about the fact that this is not normal behavior. But it is normal behavior for me to care, just like my teachers cared about me when I was growing up. I want to protect children, too. I would never do anything to harm anybody."
Devine, however, was unmoved. "I believe you cared about students, but I don't believe you felt that way about 'Alex,'" he said. "It's not how you see yourself, but your actions were not to save this person – and vulnerable kids like this are exploited. After he said, 'I will be 15,' you told him, 'I don't want you latching onto me.' That tells me you were looking for your own gratification at the exploitation of a vulnerable minor."
"You had plenty of chance not to do this kind of offense – and you did it anyway," continued the judge. "You knew the risks and even said so. And I don't think you should be treated any differently from any other person who commits this same crime."
Devine then sentenced Achin to three years in prison, suspending all but seven months and placing him on two years' active, supervised probation. Achin must also register as a sex offender and comply with whatever his probation officer requires him to do. Devine said he could continue his supervised release while his case is being reviewed by the state court of appeals.