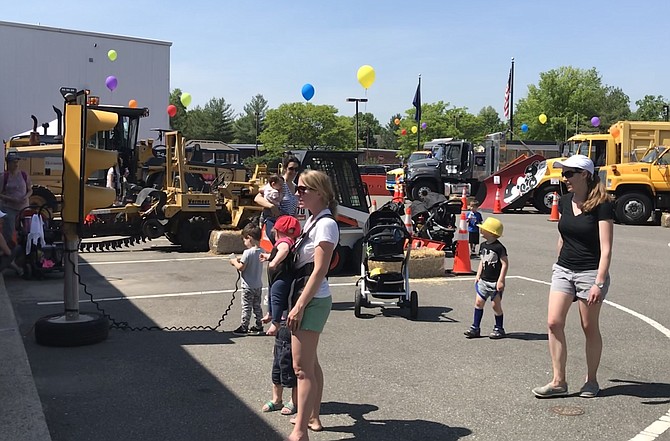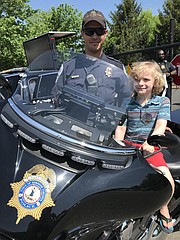 The Town of Herndon Department of Public Works (DPW) presented Big Trucks Days 2019 at its Spring Street Operations Center May 2-3. The two-day event allowed children and parents from the town and surrounding communities the free chance to see and climb into some of the town's biggest rigs.
Excavators, dump trucks, bulldozers, fire engines, they are rough and tough with massive tires and a multitude of moving parts meant for power and work.

Herndon Police Department and Fairfax County Fire & Rescue Station 404-Herndon also brought vehicles to display.
Parents and children provided different answers on why they liked Big Truck Days. Some said that coming to the event was a tradition. Others spoke about the power of the machines, their loud noises and how the operator sits up high. Yet for some, the trucks were "scary."
Owen Jones, 2, of Springfield visited Big Truck Days with his mother, Lindsay. He liked the height, mass and power of the mighty machines. "He loves trucks and anything that goes. We play trucks inside and outside, from dawn until dusk," said Jones. "He hasn't found a truck he didn't like," she said.
More than one child said the appeal was the noise, the roar the vehicles made. Caitlin Alfaro, formerly of Herndon visited the DPW Operations Center with her son, David, 1. "He loves anything with wheels. David loves big trucks because they make loud noises," Alfaro said.
Naturally, some children wanted to bring the big rigs home with them; a giant toy meant to go into a giant toy box. Benjamin Michael 3, of Clifton, knew precisely where to store his chosen piece of construction equipment. "I'd like to put the Bobcat in my garage," he said.
Benjamin Ridout, 6, of Reston, seemed thrilled as he sat on one of Herndon Police Department's Harley Davidson Police Motorcycle but kept turning his head. Asked what he liked, Ridout looked over at the Herndon Police cruiser and said, "I'd like to bring a police car home."
Preschooler Ella Hokanson thought she'd like the big trucks. Her mother Katherine, formerly of Herndon said, "Her friend wanted to come to see the trucks, so she did too. Ella likes the Bobcats because they're smaller and not scary."
Bill Smith DPW General Services Administrator reported, "1,460 individuals visited Big Truck Days 2019."
The Town of Herndon's next significant event is Herndon Parks and Recreation 39th Annual Herndon Festival, May 30-June 2 at Northwest Federal Credit Union, 200 Spring Street. For more information on the free event, visit Facebook at www.facebook.com/herndonfest or follow on Twitter @herndonfestival.