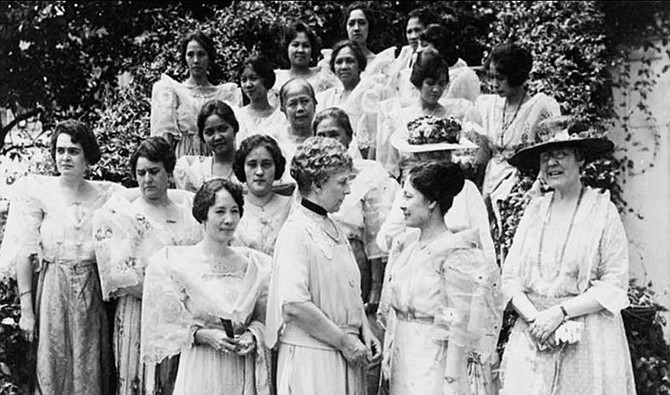 The traveling exhibit, "The Washington Home of the Philippine Suffrage Movement," will be at the Fairfax Museum and Visitors Center starting March 3. Produced by The Philippines on the Potomac Project (POPDC), the exhibit features an extraordinary group of Philippine women from those who tirelessly campaigned for the Philippine women's right to vote, as well as the succeeding generations of women leaders. All the women featured in the exhibit were once residents or visitors of Washington, D.C.
The centerpiece of the exhibit is a photograph from the Library of Congress showing First Lady Florence Harding with a group of Filipino women at the South Lawn of the White House. Taken almost a hundred years ago on June 19, 1922, these women were wives, sisters or daughters of members of the Philippine delegation negotiating Philippine independence with President Warren Harding. The Philippines was a colony of the United States from 1898 to 1946.
Several women in the photograph – Sofia de Veyra, Pura Villanueva Kalaw, Aurora Quezon and Ines Villa Gonzales - led the Philippine Suffrage Movement. They were responsible for the passing of the 1937 Amended Election Law that allowed Philippine women to vote and run for office.
Women who eventually became key figures in Philippine politics are also highlighted in the exhibit. Some of them, like Senators Helena Benitez and Leticia R. Shahani, moved to the global stage, working for the United Nations as they sought to improve the lives of the oppressed and underrepresented. Benitez received her master's degree from George Washington University while Shahani lived in Washington, D.C. as a teenager when her father worked for the Philippine Embassy.
The Philippines has had two female presidents. In 1986, Corazon Aquino, the first woman president of the Philippines was warmly welcomed in Washington. Aquino requested and received financial aid for the Philippines from the U.S. government, International Monetary Fund and World Bank. Former president Gloria Macapagal Arroyo studied at Georgetown University where former president Bill Clinton was her classmate. Arroyo's father, Diosdado Macapagal was president of the Philippines from 1961-1965.
The exhibit also shows the relationship between U.S. Suffragist Carrie Chapman Catt and the leaders of the Philippine Suffrage Movement. In 1911, together with Dr. Aletta Jacobs of the Netherlands, they met with a group of American and Filipino women to form their own suffrage group. Catt continued to support the group until Filipino women were granted the right to vote in 1937.
Event Details
The Washington Home of the Philippine Suffrage Movement Exhibit
March 3 – April 15, 2019
Open Daily, 9 am – 5 pm
Lecture
April 14, 2019, 3 pm
Fairfax Museum and Visitors Center
10209 Main St., Fairfax, VA
POPDC is a family project that features Philippine landmarks in Filipino-American culture and history in Washington, DC. popdc.wordpress.com