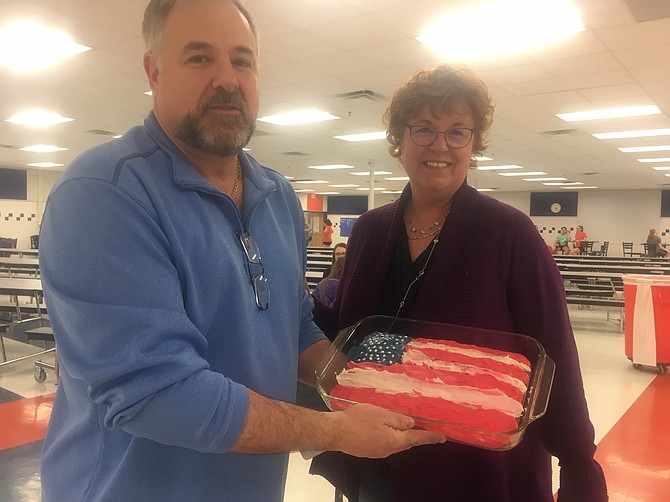 When the two sides of the political spectrum got together recently at West Springfield High School, the result was a 30-foot buffet of food to feed
those impacted by the government furlough.
This furlough event was the brainstorm of West Springfield students Emily Norton and Harry Bolvin, who have different political ideologies but a vision to come together for others.
"It's simple to put our differences aside in a moment of need," said Bolvin.
"It really feels like everyone I know is touched in some way," by the furlough, Norton added.
Norton is part of the Young Democrats at the school and Bolvin a part of the Young Conservative Club, and the son of Tom Bolvin, a former Republican delegate in the Springfield area.
Supervisor Pat Herrity (R-Springfield) attended the event which was held in the West Springfield High School cafeteria on Wednesday, Jan. 23. "Fairfax County has a long history of coming together to solve our problems, they need to do the same," Herrity said, noting that the folks on Capitol Hill "are acting like a bunch of third graders."
Later that week, a temporary three-week resolution to the government funding reopened government; both sides will try to arrive at a permanent fix in the meantime.
Herrity noted the indirect effects the furlough had on the region, including the Metro, restaurants, and even one employee in his office that has a spouse that was furloughed. "It hits real close to home for me," he said.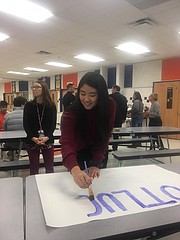 The table that lined the wall in the cafeteria was full of food which came from area restaurants and the kitchens of students. There was pizza, shrimp, sushi, chicken, pasta and sub sandwiches, to name a few. Joshua Mettling, a senior at West Springfield, cooked his own baked ziti. "It's a pretty popular dish in my house," he said.
Assistant principal Kay Rizzuto showed up with her husband Pat and an American flag cake. Pat Rizzuto retired from the Air Force and was the energy behind the cake. "He thought this was the thing to do," she said.
An employee from USAID showed up with her two daughters for dinner. She'd also been to a few other furlough events, including the SkyZone night around the corner. "It's really nice that people recognize the hardship of not getting a paycheck for more than a month," she said.
It's not the first time Bolvin's group and Norton' have partnered on a planned even. In September, they got together for a 9/11 tribute and later, Spartanfest at the school.