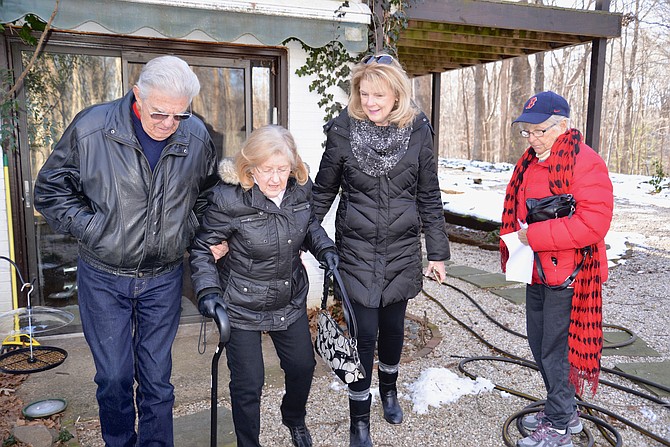 "We just want to spread the word that we are available, and we want to keep recruiting volunteer drivers." —Shepherd's Center of Great Falls president Phil Pifer
Not long ago, a couple of conversations here and there among a few folks in Great Falls started them thinking about the needs of area seniors aging-in-place, or wanting to do so. Transportation is just one of those needs, but it's a big one. When live-alone seniors or senior couples become less able, or unable, to drive themselves, even important appointments like doctor's visits become difficult. Even if there is family nearby, that family may have their own time constraints, and the senior doesn't want to feel burdensome by asking for transportation assistance. There's always a taxi or Uber rides, but the costs might make a senior think twice about utilizing either for any but the most urgent of errands.
The costs, and the concern about "bothering people" in turn can lead to seniors finding themselves increasingly isolated – and that's exactly what led that conversing Great Falls gang to do more than just talk about the needs. Together, they formed the Shepherd's Center of Great Falls, affiliated with the Shepherd's Centers of America.
Shepherd's Centers have a mission: enhancing the quality of life for our aging neighbors and ourselves. Across the country, the nonprofits organize volunteers to assist seniors with transportation, simple handy helper work and home maintenance, social engagement, tech troubles, and more.
WITH THE SPEED at which the SCGF gets things done, (they only incorporated in May of 2018) no doubt they will soon have all of those services available for their 55+ neighbors. To get things off the ground and address that number one need as identified by a survey with 350 local senior respondents, the SCGF is excited to report that their senior ride service is ready to go. They provided their first ride on Monday, Jan. 21, escorting Ms. Gayle Russell to her doctor's appointment.
At 84, Ms. Russell says she just doesn't feel comfortable driving herself much anymore.
"When my eyesight was better, I could manage. Now, I just don't think I can. I live in my own place, have groceries delivered and such, but getting to appointments is something of a worry."
She did try Uber, and while it was dependable, at $40 for a ride to an appointment, the costs could quickly add up. "I guess it costs more when you live back here in the woods of Great Falls," she said. "So you start thinking about not going out much except for the emergencies. That's why I am so happy I heard about this service, especially since it's going to be provided by the people from our own community. That takes away a lot of the worry right there."
Russell also likes that the drivers are "people who want to do this, so you don't feel like you're bothering anyone."
"Yup," agreed her first chauffeur, George Hersey, who was also making his inaugural run as a Shepherd's Center driver. "That's exactly right. I have time on my hands. I like to meet people, and I don't mind driving."
Ms. Russell actually got a two-for-the-price of one on her first ride. Hersey's wife Beth rode shotgun and offered to escort their passenger into the doctor's office while George did the car-parking. It was an offer that was quickly accepted by Russell.
Also on hand to be sure that the first ride launch went according to plan was SCGF co-founder and current Secretary of the Board, Carol Edelstein. Edelstein was a member of the Shepherd's Center of McLean for years and was a volunteer driver with that chapter, until she decided to work to deliver those same services to her Great Falls neighbors. Russell joined in the laughter when this small caravan arrived at her front door, announcing that her ride was turning into something more like a parade.
What does the SCGF want area residents to know?
"We just want to spread the word that we are available," said organization president, Phil Pifer, "and we want to keep recruiting volunteer drivers."
That recruitment will be key to the success of the program. Drivers who apply to volunteer must pass background checks, paid for by the SCGF. If accepted, they then receive training.
Drivers have no commitments. They are not obligated to take a specific number of rides or work any particular hours. They can view requested rides online 24/7 and accept what is convenient. The miles driven by the volunteers are charitable deductions on federal and state returns, and the SCGF carries supplemental auto insurance for the volunteer drivers.
"The only commitment from the driver is to provide the rides they accept, and to be professional, kind, courteous and in the spirit of the SCGF when they interact with clients," said Pifer.
FOR THE SENIOR RIDERS, there is no charge for the service, except any incidental fees like tolls or parking. They can request one-way rides, as well as round-trip, and the rides can be for most any reason.
And what does Gayle Russell want her senior Great Falls peers to know?
"Well, this is the first go, but I am guessing that it's all going to go well, so I say to tell everyone that this is the greatest thing, a way to get out and keep living your life."
If you want to register as a client with the Shepherd's Center of Great Falls, check out the website at www.thescgf.org, email info@theSCGF.org, or call 703-586-9696. If you think you can spare some time to take a drive or two with a new friend, get more information and apply online.