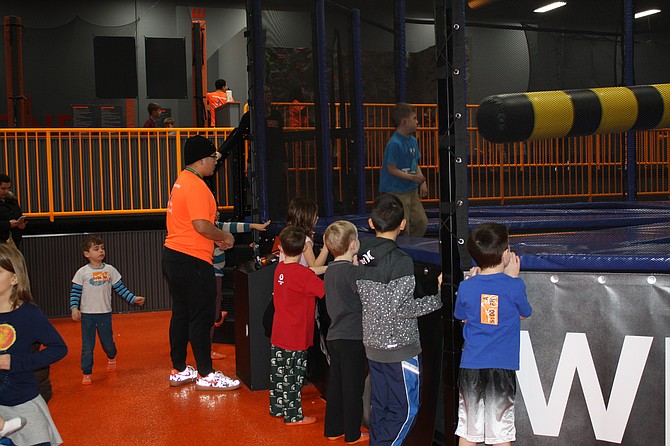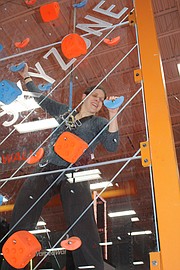 When the SkyZone in Springfield opened their doors on Thursday, Jan. 17 to the government furloughed workers, Adam Ferguson put down his Chinese textbooks and headed over with his wife Natalie. Adam is a State Department employee who's learning Chinese for his next assignment in China, when the government gets funded.
"It's kind of a mess; we're headed to China," he said. While out of work, he's meeting with others in the class to keep up on the curriculum and they appreciate support from the outside, like SkyZone.
"It's so nice to know that businesses care about us when the government doesn't seem to," said Natalie Ferguson.
They are from Arlington and attended another event with Chef Jose Andres for dinner one night. "We went with our family and they fed all of us," she said.
Over at SkyZone, a gym-like place where participants can play dodgeball, climb, jump, and balance on platforms high in the sky, "We support families impacted by the government shutdown," their information stated. "Federal government employees currently without pay and up to three immediate family members are invited to Sky Zone Park for one free 60-minute jump every Thursday until Jan. 31, 2019."
Burke father Rob Gates came in with the family to take part. He's furloughed too. "Being out of work for 27 days causes stress, this is good to burn off stress," he said. They've been "cutting back on extras, if it goes much longer, more stuff," he said, adding that "the outpouring of everyone is amazing."
SkyZone General Manager Terry Fife likes the contact he gets with the furloughed workers. "We want members of the community to know we're here for them," he said.
Arlington residents Kim Sikora and her husband are both government employees, and she's been to SkyZone before, but came back for this perk. "When I heard about this, I figured it would be a treat to come back again," she said, right before getting on the climbing wall.
The SkyZone opened in mid-December and is a gym-like facility with extreme games to get out and take an active approach instead of staring at a computer. Inside there is a climbing wall, a balance course high above, a slam-dunk basketball court, dodgeball, and one of those activities where participants dodge a bar that is constantly circling. Everyone wears vests, helmets and is hooked up to safety lines so to minimize injuries.