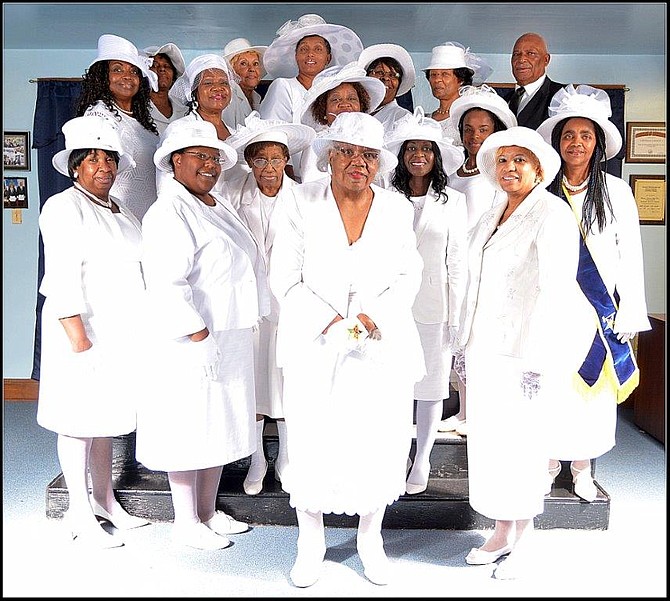 On Sept. 6, 1909, there were two important events that took place that caught the eye of the African Americans in Alexandria. One event was that a telegram by two explorers, Robert Peary and Matthew Henson, arrived on Sept. 6 stating they had discovered the North Pole five months earlier. The other was a local event – the Grand Chapter of the Order of the Eastern Star of Virginia issued by Grand Worthy Patron, Dr. H.L. Harris and Grand Worthy Matron, Fannie C. Wilkerson, of Petersburg, Va. with other officers issued a Charter to Esther Chapter #23 of Alexandria, Va. The title of Worthy Matron is the highest office in the Chapter for a woman after she serves in that position, and Worthy Patron is the highest office in the Chapter for a man after he serves in that position.
The year before the Charter, 20 people were initiated for benevolent assistance in the City of Alexandria on Thanksgiving Day. They were initiated by the Order of the Eastern Star by members of the Grand Chapter of the State of Virginia, Prince Hall Affiliation. The Grand Chapter gave the name of Esther Chapter #23 which laid the groundwork for their Charter on Sept. 6, 1909. This Chapter provided assistance to the African American community in Alexandria with food during Thanksgiving, clothes, food and gifts during the Christmas holiday. Throughout the year, they assisted the African Americans in their time of need and during natural disasters.
Today, more than a century later, Esther Chapter #23 continues its community services under its leaders, Worthy Matron, Aquila Biddle and Worthy Patron, Tom Robinson. One of the rules in being an Eastern Star member is that they must have a male relative that is a member of the Masonic Lodge Prince Hall Affiliation. Throughout the years, this Chapter has had several family members who held membership at the same time. In the 1920s, Laura Dorsey and her sister, Mary Dorsey were members. Laura Dorsey was a well-known teacher at Parker-Gray School and Mary Dorsey had multi-careers as a domestic and hair-dresser.
Presently, Mrs. Josephine Ford and her three daughters, Pamela Ford-Moore, Deborah Ford-Nelson and Rosie Ford are members of Esther Chapter #23. There are 32 members but three of them are Charter members who hold the longest membership in this Chapter: Laverne V. Lewis has been a member for over 50 years; Josephine Ford has been a member for 45 years; and Lillian Williams has been a member for 43 years.
The Esther Chapter #23 Prince Hall Affiliation is the oldest chapter in Northern Virginia. When Chapter #23 formed in 1908 and became a Charter in 1909, it immediately started serving their Alexandria African American community through faith, hope and charity.
Char McCargo Bah is a freelance writer, independent historian, genealogist and a Living Legend of Alexandria. Visit her blog at http://www.theotheralexandria.com for more about "The Other Alexandria."