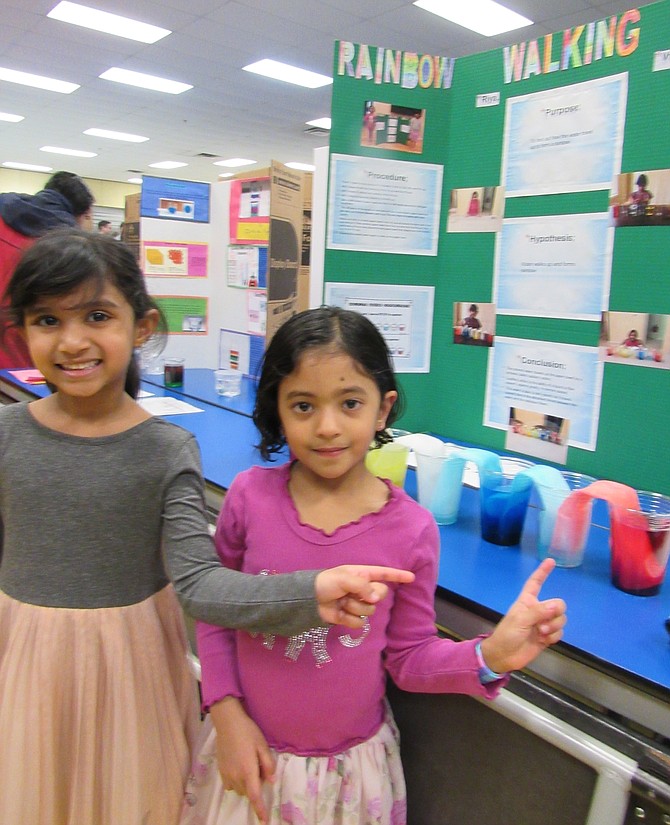 Floris Elementary School held its 10th Annual Science Fair Thursday evening, Feb. 21. "This is the biggest Science Fair ever," said Principal Gail Porter. Started in 2010 with 50 teams according to the organizer, Michele Bolos, CEO of NT Concepts, Inc., the fair grew to 101 teams with 260 children this year.
"The Floris School Science Fair is a great opportunity for our students to show off a variety of projects that apply their independent scientific research," said Bolos. She explained men and women from professional field industries and students from local high school served as mentors to the budding scientists. "The Floris students agree that this is their favorite part of the fair and especially like when their mentors leave them written feedback," said Bolos.
PROJECT TITLES ranged from "Rainbow Walking Water" by Riya Nanduri, 5 and Vritika Chilukamarri 5, to "Video Game Science" by Nate Carbaugh, 12 and Cooper Guisti, 12. Carbaugh explained their project and how the scientific hypothesis did not stand when they tested it.
"Because my friend and I really like to play video games, we wanted to incorporate science into it. So we chose a game we thought would raise our blood pressure, "Fortnite." We chose another game that is called "Word Search." We found blood pressure decreases for most people (when playing the games), but pulse rises for both games.
In addition to the Projects, Floris Elementary School, home of the Eagles, welcomed Chris Powell, Floris parent and Children Science Center Board Member and Justin Tsuchida, Children Science Center Advisory Board member. They presented the "Vacuum Canon, an extended length of PVC piping with a ping pong ball placed at one end and both ends then sealed. After evacuating the air from the pipe with a vacuum pump and rupturing a seal, the ping pong ball shot across the gymnasium.
One never knows when a child will fall in love with science and how. Principal Porter shared the story of Floris School alumni Kavya Kopparapu of Herndon, Thomas Jefferson High School for Science and Technology Class of 2018 and now Harvard College, Class of 2022. Kopparapu said in an email, "…My love for science… and research started in Floris in 5th grade. I met the Children Science Center (CSC) scientists who conducted an Elephant toothpaste experiment, which blew up to the roof of the auditorium. I think the mark is still probably there. It was the excitement that made me pursue research, and I also started working with CSC and later joined their board."
TODAY, Kopparapu chronicles her journey tackling better treatment for aggressive cancers. Kopparapu's answer, according to her TEDx talk titled "Computationally Paving the Future of Medicine" published Nov. 27, 2018, is, "…precision medicine, treating disease using an individualized, targeted approach…through the development of GlioVision, a computational tool that predicts molecular and genetic information about a tumor simply from a biopsy slide…Her research interests lie in the intersection of artificial intelligence and medicine and making cutting-edge medical technology more accessible to every patient. In this line of work, she was recognized as a 2017 WebMD Health Hero, 2018 Regeneron STS "Junior Nobel Prizes" Finalist and 2018 "US Presidential Scholar."

Seven years ago, in 2012 Floris Elementary School held its second Science Fair, the one that inspired Kopparapu. She was 11 years old and in fifth grade. This year for the 10th Annual Science Fair, 260 students participated. Where can science take an elementary school-aged child?