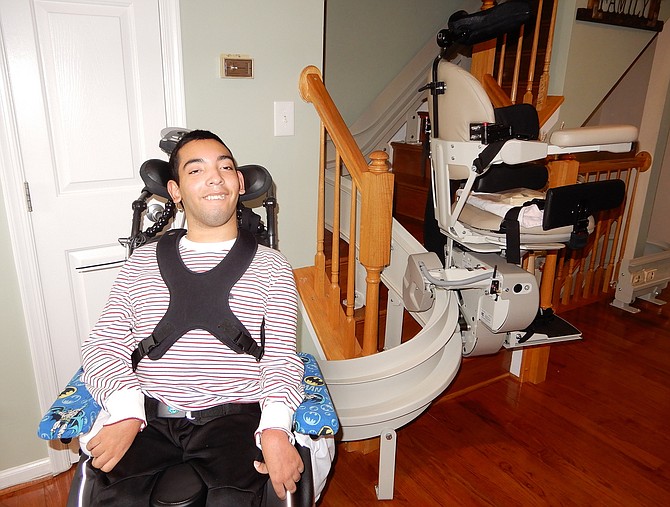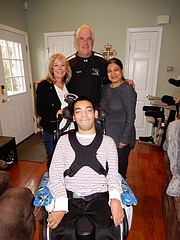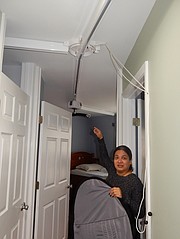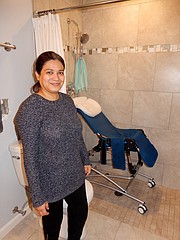 It's tough enough to be a single mom. Add to that a wheelchair-bound son with cerebral palsy and continual health crises – plus a slew of home renovations gone awry – and you've got the plight of Centreville's Ibis Espinal.
Enter Clifton's Tom Healy, who came to the rescue regarding the renovations, and the house situation now has a happy ending. But in the midst of it all, Espinal didn't know what she was going to do. First came a worsening of her son Juwaan's intestinal problems.
"We've been through a lot," said Espinal. "The past three years, he's been in the hospital 34 times. He got really sick and we almost lost him, last March. His intestines were inverted, and he was hours from passing on. It was heartbreaking."
A Centreville High grad, Juwaan is 21 and suffers from pseudo obstruction, which presents like a real blockage in his digestive system. "Because he has CP, much of his nerve system is weak and damaged, and his stomach only works 10 percent," said Espinal. "After he'd eat, his stomach and intestines would stop working and he'd throw up everything."
In late 2015, he had to start eating via a tube bypassing his stomach. Doing so alleviated some of the problem, but his digestive troubles continued. More surgeries followed; and then, last March, Juwaan's whole body swelled up and he was rushed to the hospital.
"The trauma team said, if his intestines were dead, he'd only have a few more hours to live," said Espinal. "But after six hours of surgery, they removed part of his small intestine, which had twisted. Doctors said this happens to immobile kids with CP, as babies. But they couldn't tell us why this was happening now."
After that, Juwaan battled several intestinal infections. "He has some good days and some really bad and tough days," said Espinal. "My mom flew from Ecuador to help me with him because I still get PTSD from what happened."
She said Juwaan used to love going to Chipotle with his friends and to IHOP as a family. Now, though, he can only have 2 ounces of food by mouth – usually chicken, rice and ice cream – every other day.

"Through it all, he's still been the same, happy-go-lucky boy," said Espinal. "But now he's more sentimental and tired. And when he doesn't see his friends, he's sad. He watches TV and movies to pass the time, and we take him to the mall and bowling – we help him push the ball down the lane. We also wheel him around a roller-skating rink in Manassas and even play laser tag with him. And recently, his two best friends, Morgan Assel and Mike Wallace, came to visit him from college and he was so happy."
Basically, said Espinal, she lives day to day because she can't plan. "We never know when Juwaan will need to go to the hospital," she said. "I have a bag already packed for us, in case we need to go there suddenly. But that's what you do as a parent. When he's sick, he sleeps all the time and doesn't talk. [Although nonverbal, Juwaan communicates via computer]. The good days, I celebrate him; the bad days, I comfort him."
They lived in a two-bedroom apartment; but in August, Espinal bought a three-bedroom, two-story townhouse so Juwaan's older sister would have her own bedroom when visiting and in case a 24-hour nurse is eventually needed. It's in Compton Village, but they couldn't move in until November, because Juwaan was in the hospital and the whole house had to be modified for him.
"One bedroom, upstairs, is full of his medical equipment and the other is his bedroom," said Espinal. "We needed a chairlift for the stairs, and the bathroom had to be big enough to be converted [to handicap-accessible]." A mortgage-loan underwriter, she had a tight budget. And, she said, "It took me a year to find this home that I could afford."
Earlier, Espinal had contacted the National Fair Housing Alliance for information on grants or loans to help pay for the modifications. The alliance spent $67,000 to help her get the chairlift and its overhead track, bathroom modifications and other needed items.
Espinal hired a contractor to do the work. But he didn't do it correctly and didn't do all the things she needed. For example, he put in a non-ADA-compliant ramp out front, instead of the wheelchair lift Juwaan needed. The alliance paid for the ramp removal and the lift.
Furthermore, the overhead track, or rail, for the chairlift inside stopped at the top of the stairs, instead of extending to Juwaan's bedroom and bathroom. That meant that 5-foot-one-inch Espinal had to constantly carry her 90-pound son from bedroom to bathroom to staircase and back.
So she called Healy, who's a contractor himself, and who became a family friend through SYA football, which Juwaan followed and Healy coached. He, too, had a sick child, Elizabeth, who underwent a lung transplant for pulmonary fibrosis at age 10. But her body eventually rejected the new lungs and she died while still a teenager. Afterward, her parents started the Elizbeth Ann Healy Foundation (EAH) in her memory. It provides financial assistance to families in need due to their children's health problems.
Espinal contacted Healy, not for financial help, but for advice on who to call to do the revisions reasonably. But when he saw how poorly the work had been done, he decided to fix it, himself, and EAH paid for $25,000 of the $31,000 tab. He installed the needed extensions to the overhead track and also replaced the home's front door so it's ADA-compliant with Juwaan's wheelchair.
"These two organizations did so much for Juwaan, and we're eternally grateful and happy," said Espinal. "This was life-changing for him and for his aides and me, too, because we can now get him from place to place in this house. There's even a stairlift that takes him downstairs to the basement for physical therapy. He's now safe here."
Pleased to help out, Healy said, "It feels good. The foundation's goal is to try to make a difference in people's lives. Our mission statement is 'Living, Loving, Surviving,' and Juwaan is the epitome of that. He still needs help and he's part of our community."
Recently, Juwaan's sister Shanelle made a PowerPoint presentation on his behalf and sent it to Healy and to Sherrill Frost-Brown with the Alliance. It showed Juwaan using all the new equipment and contained this message from him:
"Because of you, I can hang out on each floor of my house. The best part of my day is being able to go to the living room to watch TV with my family. Because of you, my aides and family can transport me to and from rooms in a safe manner, and I can exit my home safely. I can go anywhere I want now. Thank you all for making my home accessible for me."