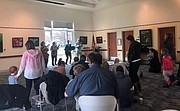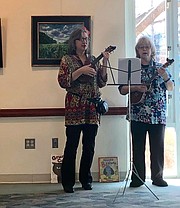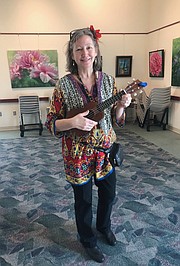 Members of the Northern Virginia Ukulele Society (NVUS) visited Great Falls Library last Saturday for a half hour of ukulele-powered sing-along and story time. NVUS originated as meet-up between fellow ukulele lovers that in time broke away into a structured society, said Lynette Terpak, a NVUS member and employee at the library. She said the society convenes the second and fourth Sunday of each month, with the first meeting devoted to elementary cord lessons and the second split between members' performances and a public open mic session. An objective of the society's outreach arm and the motivation for the event is to engage in social outreach through ukulele shows at local libraries.
Joining Terpak on Saturday were Rivkah Bryk, and husband and wife Larry and Linda Burke. The Burkes joined the society after watching ukulele groups perform in California on YouTube. Natives of Maryland, the pair joined NVUS five years ago, as Maryland did offer a similar program at the time. "We weren't sure what to expect," said Larry Burke. "We found a wonderful program for just about anything you want to do on the ukulele."
The four adorned ukuleles and performed children sing-alongs such as "Old MacDonald Had a Farm," "Hokey Pokey," and "If You're Happy and You Know It." Larry and Linda dispersed small musical instrument to the youngest members of the audience to join the troupe in sound. Terpak coupled the musical show with readings of children's books. By the end of the show, parents and children alike were singing, dancing and banging their instruments.
Further information on Northern Virginia Ukulele Society and upcoming performances can be found on the society's webpage www.nova-uke.org.