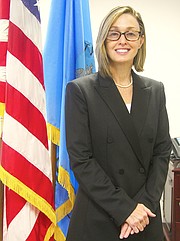 When Erin Schaible takes the reins of Fairfax City's Police Department on Feb. 19, she'll become its first female chief in the City's history. And she'll bring with her nearly three decades of experience as a police officer in Fairfax County.
"We're thrilled to have Erin take over this role," said City Manager Rob Stalzer. "She continues a tradition of exceptional leadership in our department that, first and foremost, is focused on public safety in our neighborhoods and schools, on our roadways and anywhere our citizens might be in harm's way. She's going to be an incredible asset to our community."
During Schaible's tenure with Fairfax County's Police Department, she rose from patrol officer to deputy chief. As a captain, she was the commander of the Franconia District Station and then the Department's Organized Crime and Narcotics Division. Once promoted to major, she joined the Resource Management Bureau, managing facility security, operations and the FCPD fleet.
Later, as Deputy Chief of Patrol, Schaible spearheaded initiatives to increase staffing in public-safety agencies, developed a training strategy for new officers and directed a multi-agency effort to reform juvenile-justice protocols – for which she received a national award. When she retired Dec. 28, 2018, she was the Deputy Chief of Administration.
She was chosen as Fairfax City's new police chief after a nationwide search, following the retirement of its former chief, Carl Pardiny. Stalzer said the City's selection team was particularly impressed with Schaible's background in managing complex investigations, workplace security, conflict resolution, crisis intervention and prevention, team-building and project management.
"Because she's had so many important positions with the county police, she's exceptionally qualified to see the big picture of a department and the community," said Fairfax City Mayor David Meyer. "She'll continue to help us with cutting-edge solutions to keep our community safe, while also ensuring we attract and keep the best people on our force."
Meyer also praised both Pardiny and Kenneth Caldwell, who's served as acting police chief for the past two months. "It's a tough and complex job, with serious issues cropping up daily, and these two gentlemen served with class and professionalism," said Meyer. "The City and its residents will be forever thankful."
—Mike McCarthy contributed to this story.