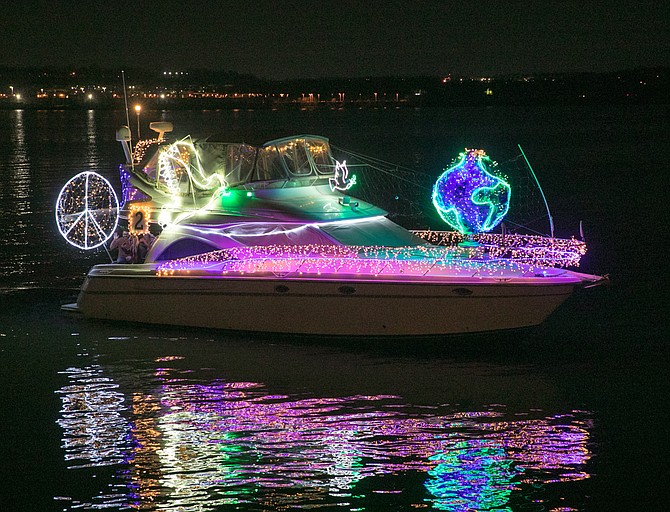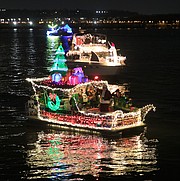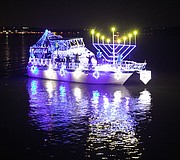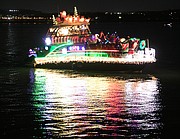 Thousands of spectators gathered along the Old Town waterfront as a record 60 boats lit up the Potomac River Dec. 7 in the 20th annual Alexandria Holiday Boat Parade of Lights.
The mile-long parade was led by Alexandria's fireboat Vigilant and Washington, D.C.'s fireboat John Glenn, and closed with Alexandria's tall ship Providence.
Prizes were awarded in 10 categories, with Best of Show going to Anamchara and Captain Steve Preda, who presented the theme "Peace" featuring a rotating lighted globe, glowing doves and a peace sign.
The 2019 Winners include: Best of Alexandria Show -- "Peace," Anamchara, Captain Steve Preda; Best Powerboat -- "Carol of the Bells," A Blast, Captain Steve Gwensberg; Best Sailboat -- "Under the Sea," Tuesday, Captain Joe Landa; Thinking Outside the Christmas Box -- "Hanukkah, the Festival of Lights," Letter of Marque, Captain Walter Weiss; Most Holiday Cheer -- "Christmas on the Potomac," Kairos, Captain Tipper Williams Bradford; Best Theme -- "A World Series Christmas," Escape Plan, Captain Timothy Smith; Best Spirit of America -- "Go for the Moon – Merry Astronautical Christmas," Dark Star, Captain Doug Savage; Most Spirited Crew -- "Disco Christmas," Moondance, Captain David Huebner; Hardiest Soul -- "Santa Goes Fishin' with Buddy the Elf," Canoe See Me?, Captain Adam Cope; and Best Try -- "Santa Claus is Coming to Town," American Girl, Captain John Gaydos.