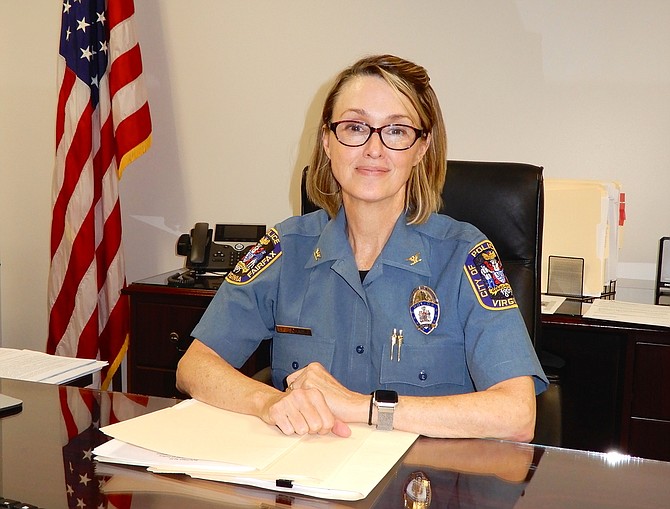 Anyone becoming Fairfax City's new police chief after former Chief Carl Pardiny retired had big shoes to fill. But don't let Erin Schaible's petite stature fool you: with almost 30 years' experience as a police officer in Fairfax County, she's a seasoned veteran definitely up to the task.
Following a nationwide search, she took over as Fairfax's new police chief – the first female in the City's history to hold that position – in February, and now has six months here under her belt.
"I love the City – it's quaint and charming and a great place to work," said Schaible. "And because I worked out of the Massey Building for many years, I was familiar with it."
Growing up in McLean, she originally wanted to be a clothing designer. "But my dad, who's now retired, was in the Secret Service," she said. "Listening to all his stories was fascinating, and his job sounded so exciting and intriguing. And law enforcement seemed like such a positive career."
Still, Schaible majored in Clothing and Textiles at Virginia Tech, with a minor in Business. After graduation, she went to New York and tried to make a go of life there, but just didn't like the city. So she returned to Virginia and got into retail and security for Neiman-Marcus in Tysons Corner.
"I loved it and then started interviewing for law-enforcement jobs," she said. "I was hired by the Fairfax County Police Department, went to the Academy and was with them for 28 years." She was the first of her siblings to take that career path, but both her brothers followed in her footsteps. One is with the Los Angeles Police Department and the other is with the Orange County Sheriff's Office.
In 2007, Schaible obtained her Master's in Public Administration from GMU. It was a cohort program involving different disciplines and people from various entities and perspectives.
LIKE ALL POLICE OFFICERS, she began in patrol, but rose through the ranks to become assistant commander of the Reston and McLean district stations and commander of the Franconia District Station. She also served as School Liaison Commander over all the school resource officers (SROs).
Schaible held a variety of posts during her career, including assistant commander of Internal Affairs and commander of the Organized Crime and Narcotics Division. As a major, she was in charge of Patrol Division II and headed the Resource Management Bureau – which oversees all the police vehicles and equipment and handles court requests for records, clothing and fingerprints.
She then served as Deputy Chief of Patrol for four years, commanding the largest police patrol contingent in the state – and being the first female law-enforcement professional to do so. Schaible spearheaded initiatives to increase staffing in public-safety agencies, developed a training strategy for new officers and directed a multi-agency effort to reform juvenile-justice protocols – which culminated in a Capstone Project and national award.
"I worked with Fairfax County Public Schools, Juvenile Court and the Intake and Probation departments, plus Northern Virginia Mediation – a public nonprofit doing conflict resolution before things come to the court system," she said. "We aimed at reducing the disproportionality of minority juvenile offenders in the system. We wanted to get them to recognize why what they did was wrong and to come to terms with the victim – who told the offender the harm it did to him."
"It was a group effort," continued Schaible. "And it was the first time in the country that a school system, law enforcement, courts and a private entity came together to collaboratively work on this problem. Juveniles' brains aren't fully developed until age 26, so it hinders their processing of situations. So when you can teach them and hold them accountable, there's very low recidivism."
She said Juvenile Court Intake did a "great job" and looked at the offenders' risk factors and backgrounds, such as domestic violence, poverty, substance abuse and mental-health problems – and tried to get them the help they needed. The group also applied to Georgetown University's Center for Juvenile Justice and Reform (CJJR).
"We'd already been working on it for a couple years, and this program helped guide and critique us to get us to the next level of implementing it," said Schaible. "We spent a year doing this, and the CJJR later selected as the national recipient of the Capstone of the Year award in 2016."
Afterward, as a lieutenant colonel, her final position with the FCPD was Deputy Chief of Administration, in charge of the budget, Police Academy and IT program. She retired at the end of December 2018 – but not for long. After about 1-1/2 months, she became Fairfax City's police chief.
"I like doing things that are purposeful and helpful," explained Schaible. "And everyone I've met here – employees and citizens, alike – is very friendly and appreciates the police. It's just a nice environment, and it's fun. I love the small-town feel and, because you can connect to people on a more personal level, you feel like you make a difference. I see people more frequently, so we know who each other is and the communities they live in."
THE MAIN CRIME PROBLEMS here, she said, are low-level vandalism and vehicle tamperings. And since the latter is a crime of opportunity, she urges people not to leave their cars unlocked with valuables inside.
The City's Police Department has 66 sworn police officers and about 80 total employees, including civilian staff. "I've been pleasantly surprised how receptive they were to me coming in as an outside chief," said Schaible. "They've been genuinely kind, warm and welcoming."
As for future initiatives, she's considering having a full-time bike team, with two officers per 12-hour shift. "Now, we just pull some guys from patrol and make it work," she said. "But maybe we could do it from 2 p.m.-2 a.m. during the high calls for services – school release, afternoon rush-hour traffic and bars closing."
Schaible also wants to explore the feasibility of creating speed-camera zones to slow traffic on some roadways, particularly those with churches, parks and schools. High-density, pedestrian-traffic areas such as Old Town would also be considered. However, she added, "We'd have to get the enabling legislation from the state to do this."
Furthermore, she'd also like to "use technology more smartly and as a force multiplier." And she wants to get people to "voluntarily comply so the roads are safer for drivers, scooter-riders, bicyclists and pedestrians."
On a personal note, she and her husband, Capt. Lance Schaible – commander of FCPD's Criminal Intelligence Division – have four children. Two sons and a daughter are in college and their youngest daughter is in high school.
Delighted to be the City's police chief, Schaible wants to strengthen the bond between the police and residents. "Our goal is to be the police department for the community, and we welcome comments, suggestions and concerns," she said. "We want to get our officers more connected with the community."
In addition, she said, "We want to engage the youth. Our officers do mentoring in the elementary schools and take students to sporting events at George Mason, and we want to continue that. We want to let people know we're here for them."