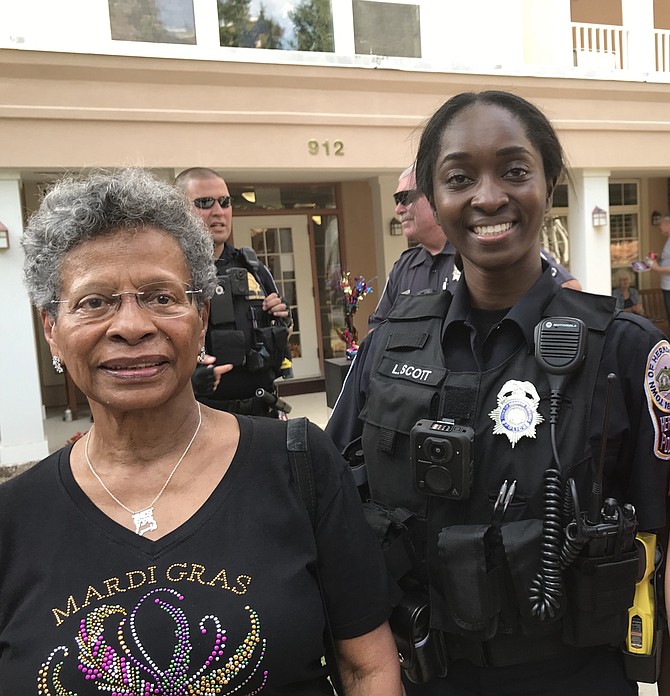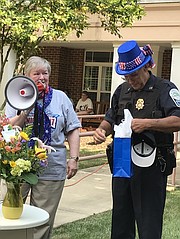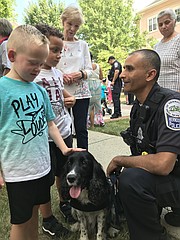 Town of Herndon residents got the chance to get up close and personal with members of the Herndon Police Department during 2019 National Night Out held the first Tuesday in August. The annual community-building campaign promoted enhanced police-community partnerships and neighborhood camaraderie to make neighborhoods safer, more caring places to live, enhancing a sense of community. The event was in line with the Herndon Police Mission Statement: "To enrich the quality of life and promote a sense of community by providing law enforcement and related services in partnership with the law abiding public."
"Public safety is a shared responsibility, and through active community partnerships we can initiate problem-solving strategies to address crime and other neighborhood issues that affect everyday life," wrote Colonel Maggie A. DeBoard, Chief of Police, Town of Herndon, in the HPD 2018 Annual Report. Chief DeBoard could not attend this year's event.
Members of thirteen Town of Herndon communities planned and hosted the neighborhood block parties, cookouts and other events for local law enforcement and staff.
THE TOWN OF HERNDON Police Department kicked off 2019 National Night Out with sirens blaring from two motorcades. Shortly before 5 p.m., police approached Stop 1, the senior apartment community Herndon Harbor House located on Grace Street. Residents and other nearby neighbors of Harbor House, including children, applauded the men and women in blue and support staff as they filed into the shady courtyard turned picnic and games area.
Unlike last year's National Night Out in the Town of Herndon, U.S. Customs and Border Patrol agents did not attend this year's event with the Herndon Police Department.
Former Restonian and current Herndon Harbor House resident, Alexander Burke introduced himself to Lieutenant Si Ahmad. "I'm very happy to see you. It is amazing the number of officers you have here tonight," said Burke.
Herndon Harbor House resident Imes Bello greeted Officer L. Scott. "I'm glad they have a woman officer," Bello said to Scott.
Members of the Herndon Town Council tagged along with police. Town Councilmember Jennifer Baker looked at all the officers and neighbors mingling, enjoying the good food and playing games together. "National Night Out is a prime example of community policing at its best. We are so fortunate to live in a town where our police officers know our residents in both good and difficult times," said Baker. Supervisor John Foust (D- Dranesville) added: We are fortunate in the Town of Herndon and the county to have outstanding police forces."
Sherri Bonilla of Herndon lives in the apartment unit across from Herndon Harbor House. She brought her two young grandnephews, Kiptyn Tygretts and Zayden Roseboro to the event. "We talked about how the police help us, and we came to National Night Out to meet them," said Bonilla. The boys eagerly sought out explosive detection K-9 Jude and partner SPO Adil Aftab. The boys asked SPO Aftab where Jude slept. SPO Aftab explained that EOD Jude came home with him at night. "His bed is right outside my bedroom door because he wants to sleep in my bed," replied SPO Aftab.
National Association of Town Watch Incorporated (NATW) introduced National Night Out in 1984. At that time, the event involved a reported 2.5 million neighbors in 400 communities in 23 states. In 2019, the celebration attracted 38 million neighbors in 16,000 communities in all 50 states, U.S. territories and military bases worldwide according to NATW.
ACCORDING TO HERNDON POLICE, citizens can follow news on road closures, events, and incidents at @HerndonPolice on Twitter and also follow on Facebook, www.facebook.com/Herndonpolicedepartment and Instagram @HerndonPolice. Citizens can connect with Herndon Police online at www.herndon-va.gov/public-safety. To report a community issue or action concerning the Herndon Police Department or its employees, call 703-435-6846 or visit the station at 397 Herndon Parkway, Herndon.