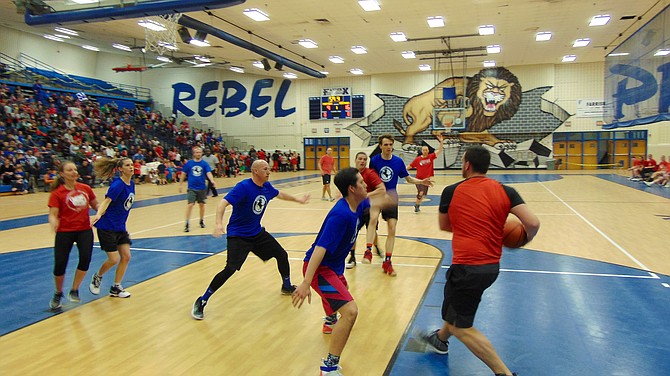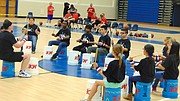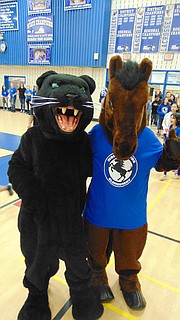 Talk about a fun night. The excitement at Fairfax High School was absolutely electric on Thursday, April 11, 2019 during the sixth annual charity basketball game between the Mosby Woods Mustangs and Providence Elementary Panthers. About 1,000 people, mostly elementary students and their parents, helped raise $1,000 for the Lamb Center, a charity that does outreach for the poor in Fairfax. Organized by Mosby Woods teacher Taylor Gaddy, the game ended with a score of 67-40, with Mosby Woods winning.
According to Gaddy: "The No. 1 thing is to raise funds for charity and for the community. Also, this shows the students selflessness, which is one thing we talk to the students about all the time – selflessness and doing for others, and this can encourage those conversations to take place, so it's a win-win all the way around."
About 50 volunteers helped stage the event, including teacher basketball players and cheerleaders. And during the halftime break, several student groups from both schools gave spirited performances. "The kids really enjoy seeing their teachers in a different environment like this and doing something good for the community as well," Gaddy added.
Added Mosby Woods Principal Mahri Aste: "This is a fantastic community event for both of our schools, Mosby Woods and Providence, and we're so happy to come together as a school community to play this game so that all the proceeds could go to the Lamb Center, which helps the homeless in our area."
Providence Elementary Principal Dan Phillips added: "We love the opportunity to get together with our Mosby Woods friends. Some of our students who go to the Advanced Academic Center at Mosby Woods have siblings at our school, so it's just a great partnership. We love them. We love their principal and we love doing the whole thing for charity as well."
At-Large School Board Representative Ryan McElveen added: "I think it's great to see our community engaged in this broad, wide-ranging event with faculty, parents, students, all involved in supporting efforts in our community."