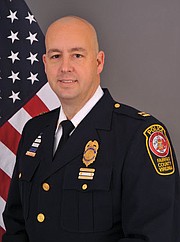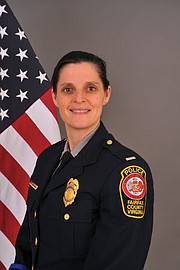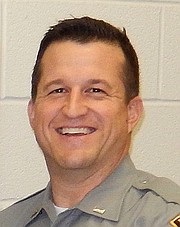 Fairfax County Police Chief Ed Roessler has promoted two police captains to majors, and both have served as district-station commanders in the local area. Chantel Cochrane headed the Fair Oaks District Station, and Bob Blakley led the Sully District Station.
In addition, the Sully station's current assistant commander, Lt. Ryan Morgan, has been promoted to captain.
Currently the Assistant Commander of the Police Department's Major Crimes Bureau, Cochrane has been with Fairfax County since 1996. Her assignments have included Mount Vernon District Patrol, Neighborhood Patrol Unit, Crime Scene Section, Criminal Justice Academy, Internal Affairs Bureau, and Commander positions at both the Mason and Fair Oaks district stations. She's married to a retired county police officer and has four children.
Blakley, who presently commands the Department's Traffic Division, joined the county police in 2002, after serving four years with the Virginia State Police in the county. While with the FCPD, he's worked in the Crash Reconstruction Unit, Internal Affairs Bureau and Major Crimes Bureau and commanded the Sully District Station.
Furthermore, Blakley serves as one of three police commanders on the National Capital Region Incident Management Team, which deploys and manages large-scale incidents and disasters across the region and beyond. He also oversees the department's leadership development program and teaches that material to law-enforcement professionals across the country with the International Association of Chiefs of Police.
Blakley has a Master's in Public Administration from George Mason University, where he also serves as an adjunct professor. A Marine Corps veteran, he married his high-school sweetheart and they have four children.
As for Morgan, he's spent a great deal of his career at the Sully District Station. Regarding his new position, he said, "I have been told I will be the department's Planning Captain. It's a great opportunity."
Pleased with all his newly promoted officers, Roessler said, "During the last few years, I've enjoyed the opportunity to coach and mentor a deep bench of highly qualified personnel who are learning the knowledge, skills and abilities to one day succeed to the next level of leadership. I wish them all the success in their endeavors and, above all, I pray they stay safe."