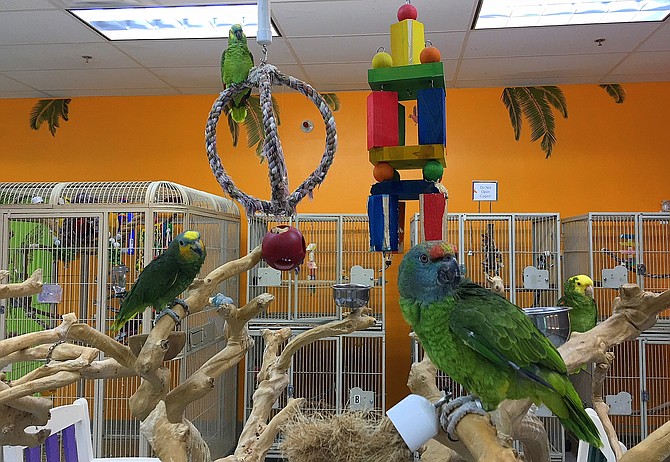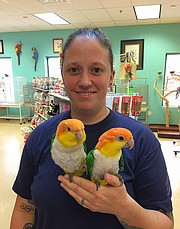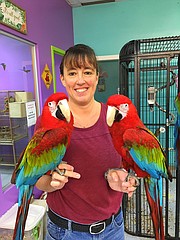 Carey and Tammy Morgan's Chantilly business is for the birds — and their aficionados. That's because they own TC Feathers Aviary at 4309 Henninger Court, off Walney Road.
They sell exotic parrots, supplies and accessories and clearly enjoy what they do. Their store is bright, cheerful and bathed in light, and the walls painted in different colors give it a tropical feel. Even the birds have fun, taking turns playing on their own, life-sized gym. Besides their room and the sales section, there's also a nursery, boarding area and breeding room.
And on Saturday-Sunday, Oct. 6-7, from noon-2 p.m., the Morgans are inviting the public to their first annual ParrotFest.
"Every year, we hold a customer-appreciation event," said Tammy Morgan. "And this year, we decided to make it more fun and invite families."
The free event will feature face painting, live music and refreshments, plus snuggles from three baby goats in a mini petting zoo. Children may also feed popcorn to the parrots and animal crackers to the goats.
The fun includes free raffles for bird toys and supplies; or $5 raffle tickets for a bird cage and a year of free trims for the winner's bird. People may also buy $10 tickets to vie for $400-$500 java tree bird gyms. There'll be sales on all merchandise, except for birds and food, and it's also a fundraiser for the nonprofit Friends of the Fairfax County Animal Shelter.
"There's lots of fun stuff for kids to do," said Morgan. "And it's a good way to introduce the public to what our aviary has to offer. I started this store 18 years ago, and we've been in this location five year. We also board birds for people going out of town. We own about 200 birds — some 35 different types of parrots. Many are ones we've rescued and are our pets."
About 19 years ago, she received a baby cockatiel as a present and fell in love with it. Then, as a hobby, she added more birds and eventually opened a store. But before that first bird, she said, "I never realized how much personality and intelligence birds have. For example, at home, one of my African Greys can tell me our other animals' names, what they are and what they're doing."
So the bird will say things such as, "Zoe's a dog, Molly's a bird and Momo's a cat. She'll even communicate with them, saying, for instance, "Molly, stop" or telling one of the dogs, "George, no barking."
"I like the interaction with the birds and the bond you form with them because they understand so much," said Morgan. "And the different species have different personalities. So when people come into the store, we ask if they have kids, if they want an active or more sedentary bird, and if they live in an apartment or a single-family home — because the noise level could affect the neighbors."
She said cockatiels are especially popular because they're small, even-tempered and easy for children to handle. And African Greys are particularly intelligent and have one of the biggest vocabularies, easily able to learn 100 words.
Wife Carey got her first bird, 10 years ago, and her interest in them continued to grow. "I like how interactive they are," she said. "You can almost have a conversation with them. And they live 15-80 years; the smaller ones live 15 years or more, and the large macaws can live 75-80 years."
She said macaws, conures and caiques are big hits with the customers. "Conures are native to Central and South America," said Carey Morgan. "They're clownlike, playful and outgoing and come in many different colors."
Macaws come in various colors, too; and, from head to tail, can be 36 inches long. "They're native to anywhere from Mexico to South America, can be good talkers and are even-tempered," said Carey Morgan. "They're like a giant version of conures."
Caiques, however, are "the puppies of the bird world," she said. "They're very high energy and love to play and do tricks. They're rough-and-tumble and hands-on."
Noting that they're one of her favorite species of parrot, Tammy Morgan added, "They love to wrestle. And they'll lie on your lap on their backs to be tickled."
Sometimes, she said, people place deposits on baby birds, but they can't take them home until they're fully weaned — anywhere from 8 weeks to 5 months old, depending on the species. "So they come and hang out with their birds in the evenings and on weekends," said Tammy Morgan. "They cuddle and start bonding with them. It's very social here."
Carey Morgan said they also rescue and help adopt adult birds needing homes. "Birds often outlive their owners, or people call saying they can no longer keep their birds," she said. "Or we'll be alerted to a situation where there's a bird needing our help. So we'll have the bird disease-tested and then we'll match it up with a family. And it's one of the things that spurred us to raise money that'll help the animal shelter — because, it, too, receives rescued animals and adopts them out."
She said people don't have to be customers or bird owners to come to ParrotFest. "It's a community event to help educate people about parrots and the proper way to keep and care for them," said Carey Morgan. "And it'll be a lot of fun." She and Tammy are also proud of their store and happy to let people know more about it.
"We enjoy working for ourselves, and everything people see here — the happiness, the health of the birds and the environment in general — is a direct result of the work we do," she said. "It's a lot of hard work, but we enjoy the hands-on aspect of working with parrots — we're passionate about it."