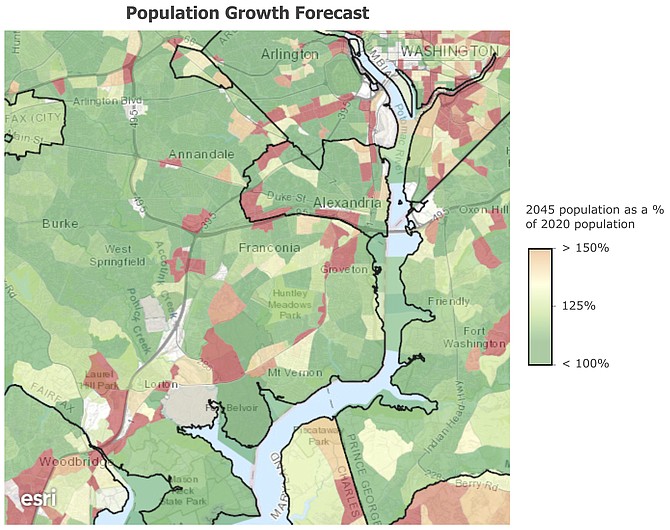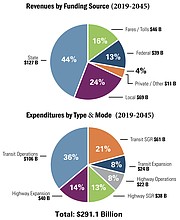 A draft region-wide plan, seeking public comment, spurs localities to streamline and invest more in transportation and housing, in light of unabated forecasted population growth through 2045.
The plan, dubbed Visualize 2045, is produced by the Transportation Planning Board (TPB), a federally mandated metropolitan planning organization. The TPB acts as a kind of gatekeeper for big transportation related projects, ensuring that those projects meet various federal requirements, principally relating to air quality. If a local jurisdiction or agency's project wants federal dollars or federal approval, or otherwise significantly impacts regional highway or transit capacity, it must have TPB approval.
Visualize 2045 contains two parts.
The "financially constrained" part represents "what the region can do" with known or "reasonably expected" funding sources. All told, it includes over 600 projects and accounts for $291 billion in revenues and expenditures through 2045. Projects in Alexandria include, for example, the Potomac Yard Metro station; dedicated lanes for speedier bus service; a transit center at Landmark Mall; and traffic access and circulation improvements on Eisenhower Avenue. Fully three-quarters of forecasted funds will go to operating and maintaining public transportation and highway infrastructure, while only a quarter will go to expanding those systems.
That imbalance leads to Visualize 2045's second part, which outlines principles to guide "what the region aspires to," beyond what's already slated.
Even though 600 projects and $291 billion sounds like a lot, that may not be enough, especially with the majority not going to expansion. TPB projects that, by 2045, the number of metropolitan jobs will increase by about a million (29 percent) and that the population will increase by 1.3 million (23 percent). Of the metropolitan jurisdictions, Alexandria will experience some of the highest growth rates — 46,000 (42 percent) more jobs and 51,000 (33 percent) more people.
"The TPB believes that the anticipated growth in travel demand calls for increasing investment in projects, programs, and policies in line with [Visualize 2045's] aspirational initiatives, meaning more of these should be folded into the constrained element," according to the draft plan.
Some aspirational items — for example, a second Metro station in Rosslyn and new highway tolls lanes — would require the brute force of new money and new construction. And yet "we can't build ourselves out of the challenges we face," but rather must "combine projects, programs, and policies" in "mutually supportive" ways, according to the draft plan.
For example, one of Visualize 2045's aspirational principles is to "bring jobs and housing closer together." TPB would have local jurisdictions pursue denser mixed-use — that is, housing-and-commercial — development around rail and bus nodes, thereby creating and satisfying transit demand in tandem. Rather than just building more transportation infrastructure to support population growth and commuting by car, the plan would reduce traffic congestion by putting people closer to jobs and mass transit.
"Our region doesn't have enough housing for our expected growth. By building more housing, we can encourage more people to live in our region instead of commuting in and out every day," according to the draft plan.
For this reason, among others, regional frameworks like TPBs and development decisions made by other jurisdictions still directly affect Alexandria residents. For example, "most of the traffic using Route 1 and using Franklin and Gibbon Streets [in southern Old Town] is regional traffic, and not local traffic," said Christopher Ziemann of Alexandria's department of transportation and environmental services (T&ES).
In addition to building more and optimizing the distribution of housing relative to jobs, Visualize 2045's other aspirational principles include expanding bus rapid transit region-wide; moving more people on Metrorail (i.e., with more and improved stations and lines, as well as longer trains); providing more telecommuting and other options for commuting (e.g., by decreasing parking subsidies and increasing non-driving incentives from employers); expanding the express highway network (i.e., with new toll lanes, to include express bus service); improving walk and bike access to transit; and completing the National Capital Trail network.
Asked what's particularly important for for the public to consider during the present comment period, Yon Lambert, Alexandria's T&ES director, said: "We can expect more tolling in the future and ... congestion will continue to grow. Vehicle-hours of delay [a measure] is forecast to increase by 47 percent in the next 25 years. Public comments about how to plan for these for these changes would be useful. In Alexandria, we have adopted a plan that focuses on providing high-capacity transit around our growth corridors. [City] Council regularly reaffirms this direction but we would welcome additional input."
TPB also seeks public comment on the FY 2019-2024 Transportation Improvement Program (TIP), a budget document including only federally funded projects within Visualize 2045's first six years. It serves mainly "to demonstrate to federal partners how federal funding is planned to be spent," said Laura Ambrosio, a TPB spokesperson.
For more information or to submit a comment, visit www.mwcog.org/visualize2045/comment and www.mwcog.org/visualize2045/document-library.