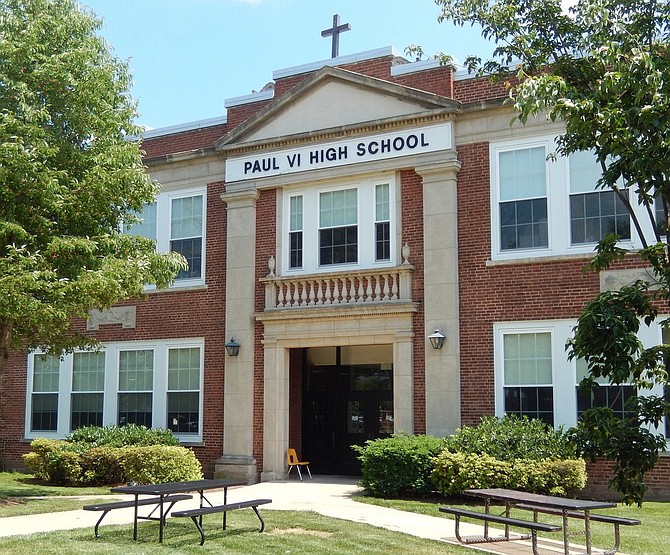 When IDI presented its revised redevelopment plan for the Paul VI High School site last week – with fewer homes and less density than proposed in June – it was no accident. It was largely due to the efforts of two Fairfax City Council members, the nearby community and the developer's willingness to compromise.
On June 12, besides commercial uses, IDI hoped to build 295 residential units there – 131 townhouses and 164 condos – and the condo building was to be five stories high. However, the plan Council approved last Tuesday, Sept. 11, still retained commercial uses, but just 266 residences – 115 townhouses, 144 condos and seven single-family homes. And one story was shaved off the condo building.
The site includes the 18.5-acre school property along Fairfax Boulevard, plus two adjacent single-family lots on Cedar Avenue. And for the past 2-1/2 years, IDI executive Enrico Cecchi has proposed various incarnations of a complex, mixed-use development there.
CITY COUNCIL was supposed to decide on it June 12; but so many residents still argued that it would be too dense that the decision was postponed three months. In the meantime, Council members Sang Yi and Jennifer Passey teamed up to try to break the impasse.
"In August, we knocked on doors in the area surrounding Paul VI, surveying the residents to see if they supported the June 12 plan," said Yi. "We wanted to hear from average citizens who aren't as involved in City government."
Those residents are in the Historic Fairfax Neighborhood Association (HFNA), which was also involved in the poll. Although initially wary of the Council's deferral – which meant this issue would be partly decided by two, newly elected Council members, (one of whom was Yi) – Passey eventually realized it was beneficial.
"The additional time gave us the opportunity to survey and better understand the priorities of residents living in the surrounding neighborhoods," she explained. Passey said she and Yi wanted to see a proposal that brought more of the residents into the discussion.
They then brought the survey results to City staff and IDI and met with Cecchi, his attorney and the City attorney. And, said Yi, "We were able to get [Cecchi] to agree to reduce the density along Cedar and McLean avenues by more than 31 percent."
This was accomplished by moving 14 townhouses from there and replacing them with seven single-family homes. The condo building was shifted more toward Oak Street and away from Fairfax Boulevard and will now be just four stories all around, instead of five stories on one side. And both the number of townhomes and condo units were reduced.
On Aug. 20, IDI submitted a revised plan, and that's what Council approved last week.
"I am extremely thankful to the many residents, IDI and our City staff for working together with Councilman Yi and me this summer," said Passey. "We found that all-important, common ground."
In HFNA's poll, 27 households supported the revisions, six did not and one abstained. And on Aug. 22, HFNA President Brian Cute sent a letter to Mayor David Meyer and City Council presenting the results and praising Yi's and Passey's actions. Cute wrote that they "engaged directly with the HFNA neighborhood, listened to our concerns and shared them with IDI." He stressed that their efforts came at a "critical juncture" and led to the compromise.
Noting that he's discovered City residents "aren't always notified of things directly affecting them," Yi said he'd like to revisit "the process we take to review proposed projects in the City and reach out to the residents."
As for Cute, he said, "This was a compromise in the truest sense, and Sang and Jennifer helped move it forward. But even so, there are still concerns about the project's density and impact on the neighborhood, once it breaks ground."
IDI's plan also contains 20,000 square feet of retail in two buildings, plus 24,000 square feet of commercial and/or community uses in the retained, original portion of the school building. Fifteen of the townhouses along Fairfax Boulevard will be live/work units with retail on the bottom.
"Our goal was to develop a plan that would receive widespread community support, and we believe that's what we have tonight," said Cecchi at the Sept. 11 Council meeting. He then thanked the Council for its guidance on a project "that'll be a tremendous benefit to the City."
Besides what it will build, IDI will contribute $133,000 to mitigate impacts to City schools, provide 60 parking spaces for Pat Rodio Park and underground McLean Avenue utility poles,
Councilwoman Janice Miller asked how many school children it's expected to generate and was told 38. She also wanted details about the adapted reuse of the Paul VI building, but Cecchi said there won't be any development there until 2019-20, so it's "too early to have commitments from potential tenants."
In response to her question about the condo unit mix and selling prices, Cecchi said about 40 percent will be one-bedroom, with the remainder mostly two-bedroom, plus some three-bedroom. In today's market, he said, one-bedrooms of 750 square feet would sell in the high $200,000s; two-bedrooms, 950-1,200 square feet, $400,000s; and three-bedrooms, 1,500 square feet, $500,000s.
Cecchi said the site-plan process would take 8-10 months and construction couldn't start until the school is vacated next summer (2019). And if it doesn't begin until 2020, he said, then the townhomes, condos and commercial components would all be built at the same time. Construction is anticipated to take about three years.
He also said the townhouses would be three- and four-bedroom and average 2,400-2,500 square feet. The single-family houses would be between 2,700 and 3,500 square feet. IDI will build the condos and commercial portions, and a development partner will construct the townhomes,
Yi asked about the live/work units and Cecchi said they've worked well elsewhere and should be marketable. He also said they'd have to be owner-occupied. Then, after several residents had their say about the project (see sidebar), Councilman Jon Stehle made a motion to approve it, seconded by Passey, who said, "It's not perfect, but it's better than it was on June 12."
Saying he's "concerned about density in this small town," Yi thanked the residents for expressing their opinions. "I wish there were [more] height reductions and better transitions," he said. "But IDI has a positive reputation and reduced the overall density by 10 percent."
Councilwoman So Lim worried about the project's density and traffic and the trees that'll be felled for it. "This plan doesn't fit the neighborhood and our Master Plan," she said.
Miller said the number of residents for and against the project is about equal – "and that's a dilemma. This isn't a bad development, but is it in the right location? It's squeezed into one of our oldest neighborhoods in the City. For many reasons, I cannot and will not support [it]. My objections are the housing mix, configuration of open space, building height and traffic [it'll bring]. What we do tonight will affect, not just the closest neighbors, but Fairfax Boulevard for years to come."
MAYOR MEYER said the site's constraints made it difficult to come up with a workable project. "But IDI made a good-faith effort to develop a plan beneficial to everyone," he said. "It could have severe environmental impacts, and I think it's not consistent with the Comprehensive Plan for Fairfax Boulevard. But we need to make the best of this proposal."
With Councilman Michael DeMarco previously recusing himself, the Council then voted 3-2 in favor of the project. Yi, Passey and Stehle voted yes, with Miller and Lim voting no.
Afterward, Cecchi said he was relieved. "I'm thankful we were able to achieve our goal of having broad-based, community support, and we're appreciative that we were able to come together with HFNA and reach a compromise," he said. "I was holding my breath, the whole time, during the vote, and I'm grateful the Council approved us."