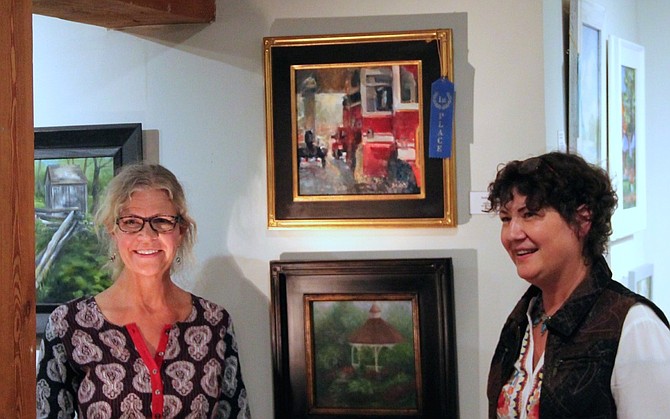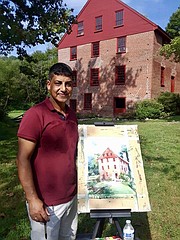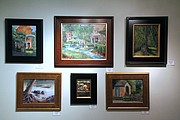 The elements didn't stop plein-air painters coming from all over Northern Virginia to participate in Paint Great Falls: Plein Air Competition. The third annual event, sponsored by The Arts of Great Falls, challenged artists to paint Great Falls scenes in "plein air" (outdoors). The twenty outdoor painters braved hot, humid weather in the first two days, only to endure chilly temps and rain over the weekend to create art from the beautiful scenes in Great Falls which were submitted for hanging and then judged on Sunday, Sept. 9.

Favorite painting spots this year over the four-day competition were Great Falls Park, Colvin Run Mill, and Great Falls Village Centre. The community could join in by visiting artists' painting locations from an online list. From the 39 oil, watercolor, acrylic and pastel paintings submitted, competition judge Lynn Mehta (Alexandria) announced the winners at the Awards & Collectors Reception Saturday night sponsored by Rossen Landscape. Mehta awarded 1st Place $500 to Jill Banks (Station 12), 2nd Place $250 to Lori Goll (Bamboo Grove, Hidden Springs), and 3rd Place $100 to KC Rajendra (Great Falls). The People's Choice $150, voted on by the 50 guests attending the reception, went to KC Rajendra (Farmer's Market Great Falls). Honorable mention was given to Alison Landry and Alexia Scott. Celebrate Great Falls Foundation provided the prize money for the fourth year.
"The quality of the art submitted always amazes me. It's fun to see the gallery walls filled entirely with Great Falls scenes, there is no other local exhibit like this," said Julie Casso, executive director of The Arts of Great Falls Foundation. The art will be exhibited through September in The Arts of Great Falls Gallery. Open hours for the show are Saturday mornings from 10 a.m.-noon, now through Sept. 30. All art is available for purchase.