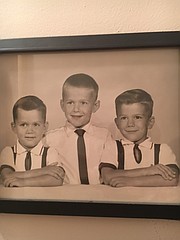 Back-to-school time brings both happiness and sadness. Tearful parents taking their excited freshman to college. Nervous parents putting their bouncing, or crying, kindergartners on the bus for the first time. High school seniors reaching for the stars as they dream of new adventures. Enthusiastic teachers welcoming their new students to a year of growth and learning. These scenes are playing out across our District as cooler weather and autumn breezes roll in.
We are fortunate in Fairfax to have one of the finest school systems in the nation. Our students and teachers are routinely recognized for their excellence in everything from academics to sports, arts to leadership. The Mount Vernon District is fortunate to have many capital improvements underway at our schools to enable students to learn and develop in state-of-the-art, environmentally friendly surroundings. Here is a tally of what is going on in the Mount Vernon District public schools:
Recently completed: Bucknell ES, Stratford Landing ES and Newington Forest ES.

Scheduled to be complete in early 2019: Hollin Meadows ES and Waynewood ES.

Starting construction soon: Belle View ES and Silverbrook ES.

Starting planning stages: West Potomac HS and Washington Mill ES.
This represents 38 percent of the schools in the Mount Vernon District, and a $201 million county investment.
Having served our community as your School Board member for 12 years prior to becoming your supervisor, I am very pleased with the progress we have made in the last few years in our school system. I am particularly proud that we were able to fully fund the School Board's budget request this year to include increased pay and compensation packages for teachers and administrators. This increased funding will keep qualified teachers in our school system while encouraging others to join our mission, thereby reduce teacher vacancies. I encourage you to stay involved in your child's school. Parents make a difference every day by supporting their children, volunteering, helping with homework and establishing good relationships with educators. And, if you see Mount Vernon School Board Member Karen Corbett Sanders at back to school night, congratulate her on becoming School Board Chair for the 2018-2019 school year. Our close work together on "Team Mount Vernon" is delivering excellent results for our community.
Please remember that back-to-school means more traffic with children, teens and young adults are out on our sidewalks, roads and in school crossings. "Give 'em a brake" and be safe out there.
Welcome back to our talented administrators, teachers, school bus drivers, crossing guards, school resource officers, cafeteria staff, custodians, and most importantly, our exceptional students.