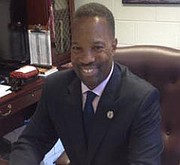 Mount Vernon High School Principal Dr. Anthony Terrell addressed the May 16 Mount Vernon Rotary Club meeting, focusing on secondary education and the promise and challenges facing the high school.
Among the school's' recent accomplishments, the principal highlighted two students who have been admitted to Harvard University, and six students who were admitted to the West Point Military Academy. Terrell discussed the challenges facing the school, such as the impact student achievement has on the substantial number of new students with English as a second language needs.
The Mount Vernon Rotary Club annually awards scholarships to deserving students at Bryant Alternative School, and sponsors an annual essay contest.
Other projects sponsored by the club include: The Easter Sunrise Service at Mount Vernon Estate Circle; working with Boy Scout Troop 993 who provides the color guard for the annual wreath-laying ceremony at the George Washington family crypt; and supporting the Salvation Army bell ringing at the Hollin Hall Safeway for the past 15 years.
The club meets Wednesdays at 6:30 p.m. at the Hybla Valley IHOP, 7694 Richmond Highway. Aleeta Gardner is the club's president.