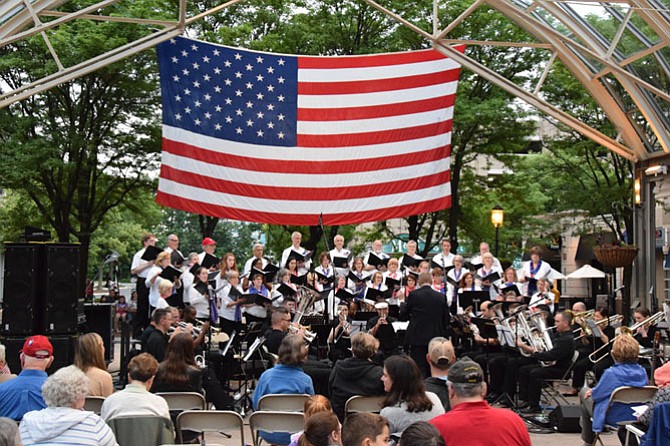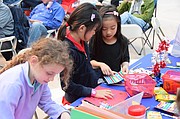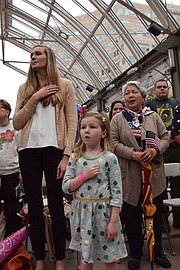 The Reston Chorale and Brass of the Potomac, a British-style brass band, will mark the beginning of Memorial Day Weekend with a Star-Spangled Salute to thank the men and women serving in the U.S. Armed Forces, and honor those who have made the ultimate sacrifice. Slated for Saturday, May 26, 7-8:30 pm, at the Reston Town Center Pavilion, this free, family-friendly event will include a concert of patriotic music, entertainment by Al and Ellen Torzilli of the band Natural Selection and family activities. Members of the Herndon/Reston American Legion Post #184 will also be on hand to distribute Memorial Day poppies and accept worn-out U.S. flags, which will be respectfully retired in a separate ceremony later this year.
The event also offers ways to directly thank service personnel, including Operation Care Package. Now in its fourth year, this care package drive has provided nearly 1,000 pounds of donated items—from snack foods and sports equipment to supplies for a Fourth of July celebration — to units serving overseas. "

This year's Operation Care Package donations will be shipped to an Air Force unit serving in Western Asia. Suggested donations include protein bars, powdered drink mixes and water flavorings; non-aerosol, unscented toiletries; small electronics, such as handheld games, fans, misters and non-lithium batteries; playing cards, puzzle books and lightweight sports equipment. (A complete list of suggested items can be found at RestonChorale.org.)
Donations may be dropped off during a Star-Spangled Salute on May 26, or on weekdays through Friday, June 1, in the lobby of 11951 Freedom Drive, Reston, as well as other Reston Town Center office buildings and businesses throughout Reston and Herndon.

A complete list of donation drop-off sites, as well as more information about A Star-Spangled Salute and The Reston Chorale's Operation Care Package, are available at www.restonchorale.org.