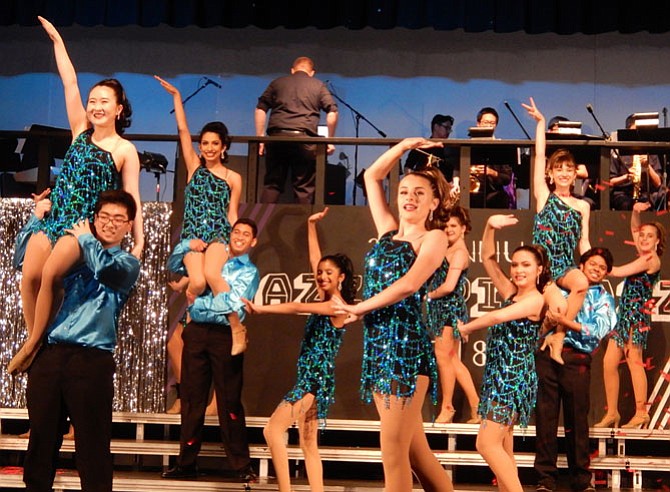 For more than three decades, Chantilly High's Jazz & Pizzazz show has been a deeply entwined part of the school and community — and an event highly anticipated by performers and attendees alike. But on April 4, Director of Student Services Robyn Lady advised those involved with the program that — due to declining enrollment in Show Choir — this choral class was being cut.
Since the ShowStoppers Show Choir members comprise the choral performers in Jazz & Pizzazz, it meant the end of this show, as well. But five days later — after a student's petition to save the class caught fire online — Principal Scott Poole decided to take a second look at this issue before any further action was taken.
Since he'd only been Chantilly's principal since October, he was unaware of Jazz & Pizzazz's long history and tradition, as well as how much the community prized this show. He also discovered that no one had told the students and parents, before the letter went out, that Show Choir was on the chopping block,
So Poole contacted former Chantilly Principal Teresa Johnson and discussed the matter with her. Then he spoke with parents and gathered information about how many upcoming students planned to enroll in the class. Finally, last Friday, May 18, he sent the following letter to the Chantilly ShowStoppers parents:
"I'm writing to follow up with the message that I sent on April 9 regarding my decision to put the future of ShowStoppers on hold in order to better understand the challenges the program faces and to give all parties involved an opportunity to share their feedback. We also thought it was important to suspend any decision about the program until the 2018-2019 tryouts were completed.
"I'm pleased to share that [Choral Director Evan] Ayars and I just met with current ShowStoppers students to inform [them] that we will continue to offer ShowStoppers next year! I want to thank everyone for engaging in this important dialogue about a program that clearly means a great deal to participating families, alumni and the CHS community.
"All of us are pleased that the proud tradition of Showstoppers will continue at Chantilly HS. The unique opportunity for students to combine their love of singing and dancing makes ShowStoppers unlike any other performing arts program that we offer.
"Our dialogues over the past month revealed that what makes ShowStoppers unique also makes it, in some ways, a more challenging program to maintain. Before the last day of school on June 15, I will work with Mr. Ayars and Ms. Lady, administrator for performing arts, to develop a summary of what we learned.
"We will share that information with all of you and also communicate some of the changes that we believe need to take place to make ShowStoppers a strong and sustainable program, moving forward. We are fortunate to have an engaged and supportive community, and we thank you again for your time and patience over the past few weeks. Go ShowStoppers!"