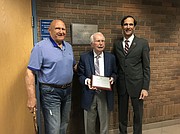 Many would say that giving back to the community is a calling, a mission. Others would say it makes them feel good, renews their soul. Whatever your reason, engaging in your community will strengthen bonds, enlighten perspectives and knit new relationships.

This month we honored former Planning Commissioner Earl Flanagan and Mount Vernon Voice co-publishers Marlene Miller and Steve Hunt.
After twelve years serving as Mount Vernon District Planning Commissioner and at the youthful age of 93, Earl has decided to hang up his planning commissioner hat. The District owes Earl a debt of gratitude for all he has done for us, including guiding the Embark process, the Richmond Highway Widening project and the Lorton Liberty development. He has made a significant impact on land use planning in the District, defining what it looks like today and what it will look like for years to come. Earl has given back to his community in many other ways, from his service to the military to serving as President of the Riverside Estates Civic Association and on the Boards of the Fairfax County Federation of Citizens Associations and the Southeast Fairfax Development Corporation. I hear Earl has no plans to retire from civic duty and that we will see him taking on new roles in the future.
Marlene Miller and Steve Hunt have been the "Voice" of the Mount Vernon District for the last 16 years. Although they have made the difficult decision to end publication of the Voice, we are grateful for the many news articles and intriguing stories they have written over the years. It is through the weaving of our stories into the fabric of our community that we inspire, encourage and inform each generation. If there was an event happening anywhere in the District, you could count on Marlene and Steve being there!
I encourage each and every one of you to find your passion, learn new things, meet new people, volunteer your time, stretch out of your comfort zone and seek out the community engagement role that is right for you! You will grow, learn and be renewed as you give your time, talents or treasures to help those around you.
Not sure where to start? Here are some suggestions:
Mount Vernon District Boards, Authorities and Commissions - https://www.fairfaxcounty.gov/mountvernon/boards-authorities-and-commissions
Fairfax County Volunteer Management System (VMS) - http://www.fairfaxcountypartnerships.org/get_involved/
Volunteer Fairfax - http://www.volunteerfairfax.org/
Contact your local school, church, non-profit or neighborhood support group.