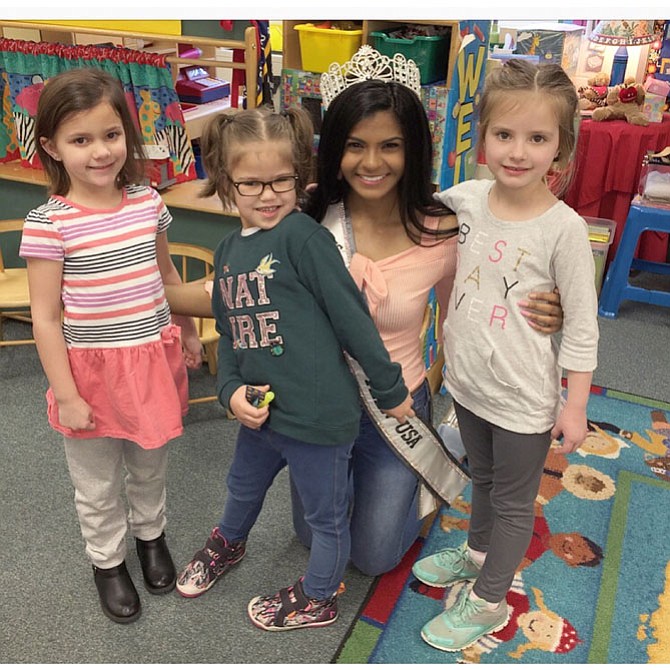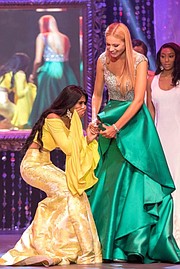 Senioritis: A colloquial term for the general burnout suffered by seniors in high school, most acutely in the few months leading up to graduation. With post-grad plans solidified and celebrations in full swing, the idea of participating in a national competition — one to involve showcasing every element of yourself — would be unthinkable for most 18-year-olds. This, however, is not the case for Centreville High School senior Himanvi Panidepu, who will represent the state of Virginia at the Miss Teen USA pageant in Shreveport, La. next week.
Panidepu will arrive at Miss Teen USA by way of Miss Virginia Teen USA, the pageant she won last October against 35 other highly motivated young women. The crown finally graced her head after nearly a lifetime of dreaming about that precise moment.
"As cliché as this sounds, I used to watch the Miss USA pageants on live TV with my mom when I was a little kid," Panidepu said. "I looked up to all the contestants and wanted to be one of them one day. Then, for many years, it just seemed unrealistic, so I pushed it out of my mind. What really got me into the game was when, about three years ago, I started competing in pageants specifically for Indian American girls, ultimately winning a title. I did really well and I got a lot of opportunities. After that, I decided to go for it and compete in the pageants that put me on the road to Miss Teen USA."
Although she's clearly good under pressure, Panidepu shouldn't encounter any logistical surprises next week in Louisiana. The Miss Teen USA pageant follows the same model as does the Miss Virginia Teen USA pageant: in-depth backstage interviews with a select panel of judges, and both evening gown and fitness wear competitions. That's just the preliminary round.
From there, only a fraction of young women advance to the second and final day of pageantry.
"I don't know if I'll win next week, but I never thought I'd be the titleholder for Virginia, either," Panidepu said. "It's all about focusing on why I always wanted to do pageants in the first place."
Panidepu was a junior in high school in the fall of 2016 when she plunged into the mainstream pageant circuit. Her eyes were on the prize during her Miss Virginia Teen USA debut, but she didn't exactly land the finish she had in mind.
"I thought, 'it's time to do what I wanted to do all those years ago, and that was Miss Virginia Teen USA,'" she said. "And then, after all that, I didn't even make it to the Top 15. I had worked hard to be ready that year, and all the while I had people putting me down for doing it. Pageants come with a certain stereotype, and even though I know it's false, good friends of mine would talk behind my back, saying I cared too much about vain things. But, it all gave me a chance to take a step back and self-reflect. The whole process helped me figure out exactly who I was. It helped me spiritually, mentally, and physically. So I made a commitment to try again the next year."
And try again, she did.
With a year of experience beneath her sash, Panidepu cinched the 2018 Miss Virginia Teen USA title, becoming the first Indian American to do so. And she stands to make more history, because, if she is crowned Miss Teen USA next week, she'll become the first Indian American Miss Teen USA.
If that's not enough pressure for a girl who isn't legally old enough to celebrate victory with a sip of champagne, a win next week would make her the first Miss Teen Virginia USA to step into the role of Miss Teen USA.
Kim Nicewonder, the longtime executive director and producer of the Miss Virginia Teen USA pageant, said she won't be surprised if Panidepu makes this kind of history next week.
"She has a great chance of winning Miss Teen USA, which is the largest and most prestigious pageant that there is for girls between the ages of 14 and 19," Nicewonder said. "What is so incredible about Himanvi's success story is how far she came in just one year. She's a great example of what these girls can learn and gain through the process of a pageant. In vying for the state title, they make decisions about how they want to live their lives. After 2016, for example, Himanvi was determined to make her lifestyle healthier, and to make an even bigger difference in her community, and she came back to the pageant just one year later and won it all. I've never seen a harder working young lady in my life. We're all so proud she's representing us."
Nicewonder has overseen Miss Virginia Teen USA for 25 years and is herself former Miss Virginia USA — the grownup counterpart to the Miss Virginia Teen USA.
The Miss Universe Organization has been crowning Miss Teen USAs since 1983, and is the same organization that puts on both the Miss USA and Miss Universe events.
"Being a state titleholder is a big commitment," Panidepu said. "I have appearances every weekend and many during the week even though I'm still in school. After winning a state pageant, part of the process is getting to further a cause you champion. I got to start my own platform, Happy Choices, which is an initiative to target mental health issues and to work toward the prevention of drug and alcohol abuse. For Happy Choices, I talk to groups of students and different schools. For middle school students, I talk about the dangers of drug and alcohol and the effects that come along with giving into the pressures. I encourage these kids to focus on their energy on a hobby that will give them an adrenaline rush — or some other kind of satisfaction — so they don't have to chase a dangerous high."
When her audience is on the younger side and not ready for direct references to drugs or alcohol, Panidepu teaches kids all about the simple yet transformative art of goal setting.
"Just recently, I spoke to a fourth grade class and walked them through how to set goals and how to make a plan for accomplishing them," Panidepu said.
This kind of focus on grassroots outreach is one example of how beauty pageants have changed since their beginnings. The ecosystem of Miss Universe Organization pageants is overhauling the definition of "beauty."
"For Miss Teen USA, the goal now is to empower these young women to further their education and to help them develop a community mindset," Nicewonder said. "These girls go further in competition — and of course in their overall lives — when they stand for something and have productive thoughts about the world around them. It's not just physical beauty; we see the contestants as ambassadors for states and schools they attend."
As for tangible benefits, pageants at the state level award winners and runners up with prize packages that often include life-changing college scholarships.
"As executive director, I've been able to incorporate significant college scholarships into the Virginia state pageant," Nicewonder said. "Every year, we award more than $2 million for schooling opportunities. It's an incredible feeling, knowing that some of these girls can further their education by participating in a pageant. I keep getting more and more private state universities on board as contributors, so our impact is just getting bigger. We have so many universities — including Hollins University, the University of Virginia at Wise, and Emory and Henry College — that offer generous scholarships."
While the iconic evening gown element of beauty pageants still exist, Miss Teen USA three years ago did away with the swimsuit component of competition and replaced it with an athletic wear showcase.
"Girls like Himanvi are encouraged to prioritize healthy lifestyles instead of being concerned with body measurements," Nicewonder said. "It's all more about the individual girl and not as much about who best meets a standard for outer appearances."
Panidepu proved to herself that the pride that comes from winning a beauty pageant really has nothing to do with looks at all.
"My whole mindset comes from understanding what exactly winning a pageant can mean in the end," Panidepu said. "I knew, for instance, that if I won Miss Virginia Teen USA, I'd be able to start an initiative like Happy Choices. There are of course so many great things that come from winning, but the best part of the prize is that I've gotten to make a difference in my community. Seeing the bigger picture, and where I fit, is what helped me win. The Miss Universe motto is to be 'confidently beautiful.' How much you believe in yourself, your goals, and your morals is what always shines through."
Panidepu insists that she's found a way to live a balanced life amid all the changes, excitement, and opportunities that lay before her as both a soon-to-be high school graduate and a Miss Teen USA contestant.
"Besides pageantry, Track and Field has been a big passion of mine for all of high school," she said. "I was Centreville's Team Captain and I also got the Scholar Athlete Award, which meant I maintained a certain GPA while also getting to a certain level of achievement in my sport. My events were the 200- and 400-meters, and I did relays too."
As the academic year winds down for Fairfax County Public Schools, Panidepu's excitement builds for national competition next week. She won't have much downtime afterward, either: in a few months, she will enter George Mason University as a college freshman.
The thing she's most excited about, though, is that her hard work is paying off and she is in a position to help so many children suffering from misunderstood mental health disorders, including drug and alcohol addiction. Panidepu also knows that no matter what happens in Shreveport next week, she'll continue to leverage her experience in a way so that she can continue to help young people avoid such struggles.
"Unfortunately, classmates of mine have died because of drugs and alcohol," she said. "Those deaths still affect me even though they were two, three years ago. But, even more recently ... my classmate was found dead on the street because of a drug deal gone wrong. It's those incidents that drive me. One bad decision really can mean the difference between death and your dream."
For more information on Miss Teen USA, including details on how to follow Panidepu's progress, visit www.missuniverse.com/missteenusa.
Local young women aged 14 to 19 can apply for a chance to enter Miss Virginia Teen USA 2019 directly on the pageant's official website: https://missvirginiausa.com.