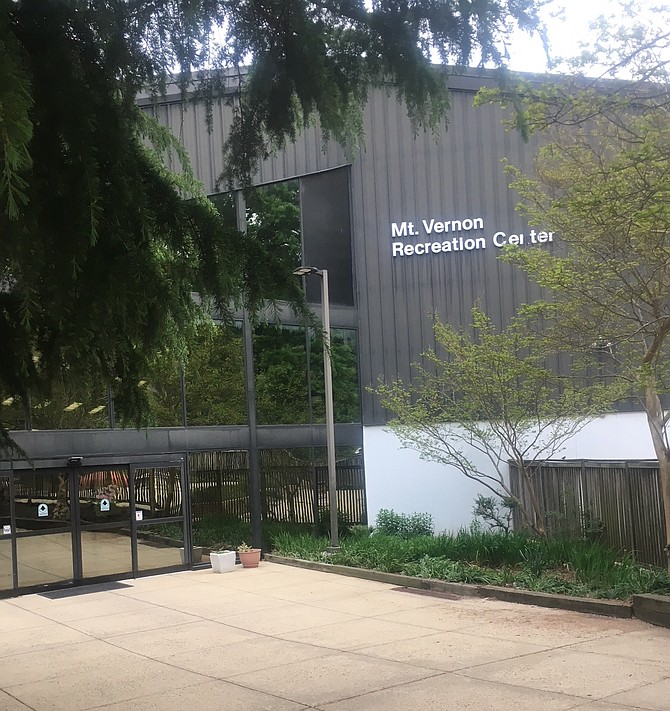 Timeline
Milestone Schedule
Kickoff Meeting Jul/2017
Concept Masterplan Meeting Sept/2017
Concept Options Meeting Nov/2017
Final Concept Design Jan/2018
FCPA Director & Supervisor Mtgs. Feb-Mar/2018
PAB Info Item Apr/2018
Citizen Meeting May/2018
Schematic Design Documents Jul/2018
PAB Scope Item Sept/2018
Design Development Documents Nov/2018
Citizen Meeting Dec/2018
50% Construction Documents Mar/2019
80% Construction Documents May/2019
100% Construction Documents Jul/2019
Obtain Permits Dec/2019
Bid Project Dec/2019
Start Construction* Feb/2020
Final Completion for Phase I Jul/2022
*Phased construction: New and updated spaces open as completed.
Just past the front door of the Mount Vernon Recreation Center, it becomes obvious that an expansion is needed for this community amenity. The front lobby is sharing its small space with the stationary bicycles that once belonged in the workout room but were pushed out into the lobby because of space.
From her vantage point in the audience at a May 6 recreation center meeting, Ingrid Butler pointed this out. "Exercise machines are out in the lobby," she said, but noted that she has made friends over the years at the recreation center, and calls it "a little community, I have no intention on going anywhere else," she said.
Mount Vernon Supervisor Dan Storck kicked off the meeting in front of a packed room. Joining him was Eric Inman of the Fairfax County Park Authority and several engineers involved with the project. They first started renovation talks in 2014 and finally got the $20 million from a 2016 park bond that voters approved.
The equipment is dated, the rooms are small, the pool needs a new filter system, the dressing areas are in need of updating, and the parking needs a total redesign. Built on a hillside off Belle View Boulevard between Richmond Highway and the Potomac River, the parking lot and entrance are major concerns to everyone involved. There are three levels of parking which can be quite a walk from the top parking level to the center. "Too many stairs," said Inman.
The plan is divided into Phase I, II and III, just as many large construction projects are. The $20 million is just for Phase I, which would involve a new entrance, modern health and fitness rooms, updated locker rooms, and pool renovations with new plumbing and filtering additions. The "gang" showers, as one member of the audience called them, would be replaced. Glass panels would be used in many places, similar to the library which is right down the hill.
"Is the glass 'bird safe' asked one woman. Some chuckled but it was a serious question acknowledged Inman.
"We've got to do more than just fix up the interior," said Inman.
James W. Ritter was from Ritter Norton Architects, the firm also involved with the library construction nearby. The parking and entrance from both sides — Fort Hunt Road and Belle View Boulevard — are points of contention. "The biggest problem we have is the grade differential," Ritter said.
But Phase I only goes so far. In Phase II, which has only been funded for design, will encompass a second ice rink and relocating the parking lot entrance, and possibly add another entrance off Belle View Boulevard. It will not move forward until another bond is in place. "We're real early," said Inman, trying to quell any additional expectations from the audience. Construction is scheduled to start in 2020 and be completed in 2022.
For the Steimans, a hockey family that hauls skating equipment up a few staircases to their car, any talk of a second rink is good. "I think it's awesome," said Sam Steiman, while his son Joe pointed out that "most of the other clubs have two rinks, in Reston and Ashburn," he said.