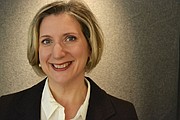 Playwright Jean Koppen will be presenting a reading of her play, "Unfocused," as part of Pipeline Playwrights' second-annual play reading series on Monday, May 7, at 7:30 p.m., at MetroStage in Alexandria. The play, directed by Jordan Friend, is about five strangers who gather for a focus group on their voting habits, unaware that the "client" hopes these citizens will identify the next American president.
According to Koppen, "'Unfocused' takes place in the modern day, but the audience doesn't know when exactly (whether it's prior to the 2016 election, today, or in the near future). The audience also does not know who the client for the focus group is — not until the end of the play. It's also about the 'politics' behind political research and how appealing to less-informed voters affects candidate selection."
She added: "The play is a satirical look at Americans and our approach to elections. Although it does not reference current political figures, it speaks heavily to the issues concerning our current electorate."
She said that focus groups require bringing strangers together, so she needed to introduce characters and establish relationships quickly to keep the audience engaged. "Comedy relies considerably on pacing and timing, which can be difficult to perfect when it's me alone with my computer. Hearing actors read the lines in front of a live audience will allow me to see where I've succeeded and where I need to do more work," she said.
As far as audience takeaways, she hopes first and foremost that the audience laughs. "The current divisiveness of politics has been depressing and I think many of us could use a moment of levity," she said. "I also hope people think about their civic responsibility to be informed and vote. In countries throughout the world people take their right to vote far more seriously than Americans. I would like people to find humor in what I've presented, and work hard to keep the situation I've presented from being representative of our country."
Koppen's full-length play "Black Hole" was produced by Port City Playhouse in Alexandria. Short play productions include: "Capsmittment" (Active Cultures, Sportaculture Playwriting Competition winner); "Politics and Deportation" (Atlas Intersections Festival); "Married Bliss" (Strangeloop Theatre); "Housekeeping" (The Alumnae Theater's New Ideas Festival); and "Slight Delay and Wearing White After Labor Day" (Haddonfield Plays and Players). Full-length play readings include: "The Best Worst That Can Happen" (The Kennedy Center Page-to-Stage Festival) and "Unprotected" (Pipeline Playwrights 2017 reading series).
Pipeline Playwrights is a group of women playwrights based in Northern Virginia, working together to support, present, and promote each other's work with the goal of moving their plays into the local and national theater pipeline. Each of the current Pipeline Playwrights — Jean Koppen, Ann Timmons, Nicole Burton, and Patricia Connelly — is presenting a reading of a new full-length play in the 2018 spring reading series at MetroStage.
"Unfocused" will be presented on Monday, May 7, at 7:30 p.m., at MetroStage, located at 1201 North Royal Street in Alexandria. Suggested donation is $10. After the reading, enjoy refreshments and informal conversation with the playwright and actors. Koppen is a member of the Dramatists Guild. Visit www.jeankoppen.com.