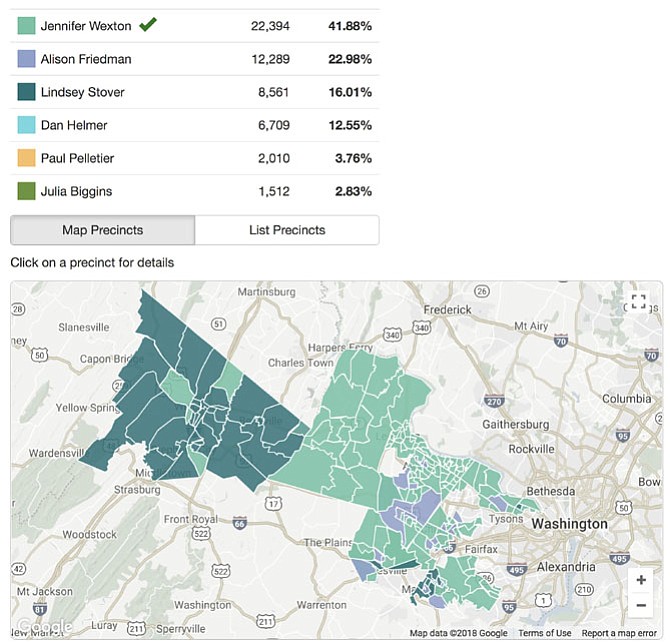 "Barbara Comstock has defeated a Jennifer Wexton-type candidate before, and she'll do it again in November."
— Maddie Anderson, spokeswoman for the National Republican Congressional Committee.
State Sen. Jennifer Wexton (D-33) made a name for herself in Northern Virginia as a tough-as-nails prosecutor, including one case that grabbed national headlines involving a woman who persuaded her boyfriend to kill her father with a samurai sword. During her campaign for the Democratic nomination in Virginia's 10th Congressional District, she never lost that sense of law-and-order grit, refusing to be pulled to the left as other candidates were calling for President Trump to be impeached.
"We are now on a mission to bring real representation to Northern Virginia and to remove Barbara Comstock from office," said Wexton in a statement shortly after securing the nomination. "Barbara Comstock has worked to strip healthcare from millions of Americans, proudly touts her A rating from the NRA, and is so out of touch with this district that she hides from her constituents and has never held a single town hall."
Comstock is the only Republican incumbent in Virginia to be defending a district that Trump lost in 2016, which puts this particular race at the top of the agenda for Democrats this fall. Two years ago, Comstock won 53 percent of the vote against Democrat LuAnn Bennett. But Hillary Clinton also won the district with 52 percent of the vote. Since that time, Comstock has tried to position herself as a centrist looking out for the interests of her constituents while taking an arms-length approach to some of Trump's more conservative rhetoric.
"She is the only candidate in this race who has voted to cut our taxes and increase our take home pay and grow jobs," said Susan Falconer, campaign manager for Comstock, in a written statement after her primary victory against Republican challenger Shak Hill. "She is the only candidate in this race to have passed two MS-13 anti-gang bills on a bipartisan basis that the president has already committed to sign."
LAST YEAR'S BLUE WAVE election has given Democrats hope that they're entering a midterm election season with the wind at their back, and they're targeting three incumbent Republican House members in Virginia. Aside from Comstock, incumbents who find themselves in the crosshairs include U.S. Rep. Dave Brat (VA-07) and U.S. Rep. Scott Taylor (VA-02). The House Majority PAC is supporting Democrats in all three of these races, hoping to turn these red parts of Virginia blue.
"These candidates will stand up for Virginia families and fight for an agenda that lifts up the middle class while their Republican opponents have made it clear that they aren't looking out for the hardworking Virginia families they're supposed to represent," said Charlie Kelly, executive director of the political action committee. "These Republicans have enabled a toxic GOP agenda that raises taxes on hardworking Virginians, imposes a devastating age tax and takes away health care from millions of Americans."
WEXTON WAS ABLE to beat back a crowded field of Democratic challengers, including two former Obama administration officials. One, Alison Friedman, was able to pump $1 million into her own campaign and remained a constant presence on television ads. The other, Lindsey Davis Stover, became a constant presence at community meetings and town halls over the last few months. In the end, neither was able to match the name recognition that Wexton has built.
"From the moment it began, this campaign has been about putting people back into the center of our politics," said Stover in a concession statement, thanking the other candidates in the race. "Together, we built momentum and enthusiasm that will ensure Democrats can unseat Barbara Comstock this November."
Friedman was able to win seven precincts in Fairfax County and nine precincts in Loudoun County. And Stover had a strong showing in Frederick County, Manassas and Winchester. But Wexton was able to run up the numbers in Fairfax, Loudoun and Prince William County for a comfortable margin of victory. Republicans say they're ready to take on Wexton this fall.
"The nasty and divisive Democratic primary forced Nancy Pelosi recruit Jennifer Wexton to lurch to the far-left, rendering her unelectable," said Maddie Anderson, spokeswoman for the National Republican Congressional Committee. "Barbara Comstock has defeated a Jennifer Wexton-type candidate before, and she'll do it again in November."