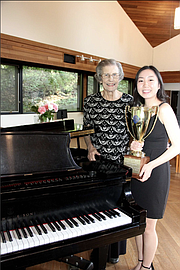 As Marilynne Jost drove at age 27, a truck in the curb lane made a u-turn into her car, sending it into a ditch on the side of the road. During the impact, she smashed her knuckles on her left hand. Jost, a pianist, was told that she would never play again.
"The Missouri mule in me said, 'Oh yeah? Watch me,'" Jost said.
When she got her hand out of its cast, Jost returned to practicing basics. She would play piano for about ten minutes, soak her hand in warm water for twenty, then repeat the process. She finally improved, but not to the level she was at before. Though she gave up her plan to audition for Phillips Gallery, Jost refused to give up piano.
This September marks Jost's 60th year teaching piano, and over the years, she has made an impact on countless students and their families. Janice Murray, whose daughter takes lessons with Jost, teared up just talking about her.
"I think she's just a top-notch teacher," Murray said. "She's been teaching her whole life, and it is something that she was meant to do. I wanted to find a teacher that [my daughter] could develop a relationship with, and I just feel like they hit it off from the beginning."
When Jost was growing up and taking piano lessons of her own, she had a teacher who would stop instruction the moment her 45-minute lesson was over. This teacher would close the piano book and cut her off, even if she was in the middle of a measure. Jost vowed that she would never do that to a student.
Now, Jost strives to spend the necessary time with each student, even adapting her lessons to what each kid may need on a particular day.
"My job is to deal with them as a whole person, not just as a 30-minute music student," Jost said. "If they come to me with a bad day and I can get them to leave in a good mood, I've done something worthwhile."
JOST TAKES TIME during each lesson to talk to her students about life. If a student is having a difficult day, she tries to find a fun piece to play to ease their stress. She said a parent told her she's like everybody's grandmother.
"She likes kids, and to be a good teacher, I think you have to like being around kids," parent Carrie Moacdieh said. "But that's not enough. You have to know your material, and of course, she herself was a professional concert pianist."
At age 16, Jost made her debut with the St. Louis Philharmonic, and she then went to Washington University in St. Louis on a full scholarship, where she studied music. Since then, she performed many programs, culminating in an all-Chopin program in 2010.
Though Jost was a concert pianist herself, she does not put pressure on her students to do the same.
"I don't expect to turn out spectacular kids that are going to go into concert careers. I've had an awful lot of good ones. But that's not my goal," Jost said. "My goal is just to spread the love of music so that they will be symphony supporters, support the good music station and play in the communities and retirement homes. I encourage my kids to do that all the time."
In addition to taking students to play at retirement homes, Jost encourages her students to give back to the community by writing valentines and letters for wounded veterans and participating in fundraisers.
Last year, her studio participated in a two-week hurricane relief fundraiser that she planned. Students asked for donations from sponsors, who pledged a certain amount of money per hour of practice time. This fundraiser brought in about $1,400 for the American Red Cross and more than $800 for The Humane Society.
While these charitable actions teach her students giving, parent Katherine Thomas said that Jost's everyday actions also model good behavior for the kids. Thomas moved last year, and Jost offered to come over and help paint her walls. When Thomas had a lot of company at her house, Jost bought her a turkey.
"She really goes out of her way to try to help others. She looks for needs of others and then meets them," Thomas said. "I like that she teaches the kids not just how to play the piano, but how to be responsible and how to be respectful."
Jost and many parents agree that she is not the teacher for everyone – she wants students to meet expectations and can sometimes be strict. But she genuinely cares about her students, and to them, Jost is more than just a teacher: The Murrays have had her over for Thanksgiving, past students come back to visit and her adult students consider Jost a friend.
ONE OF HER ADULT STUDENTS, Diane Baumgartner, previously took piano lessons from a teacher in Maryland. Her schedule got very busy when she started to simultaneously take a weaving class, so she had to cancel a couple of piano lessons.
"Then I get this letter in the mail from him, basically firing me from being his student, because I wasn't dedicated enough," Baumgartner said. She looked for a new teacher, and that's how she came across Jost. "She's more than just a teacher, she's a friend, and I am really, really grateful that my old piano teacher fired me, because otherwise I never would have met her."
Though she has been a piano teacher for 60 years, Jost was never in it for glory.
"I'm not out to make a big name for myself," Jost said. "I just want the kids to enjoy music. I want them to be able to say to their kids, 'Oh, I had the neatest piano teacher. I want you to study piano. I hope we can find a teacher like that.' That's my legacy. That's what I can contribute to the world."