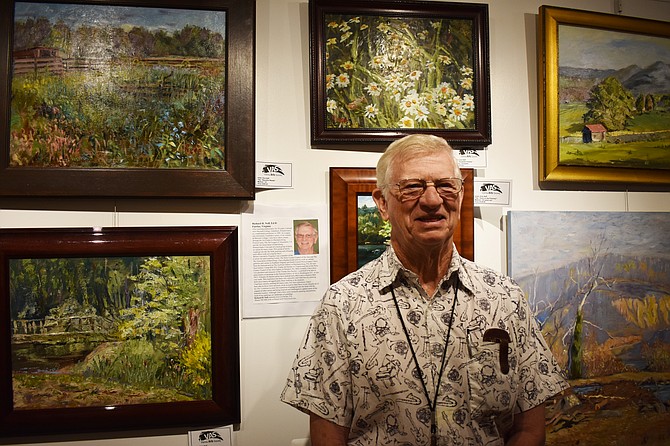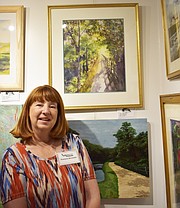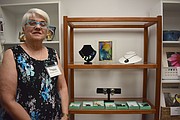 Marvel Adams's house is so full of her artwork that pieces have to be stored under sofas and beds. Mary Ellen Larkins has six kilns in her basement.
"It's really nice in the winter time when the heat rises from the kilns, but it's not so nice in the summer when the heat rises and it's fighting the air conditioning," Larkins said.
The passion to create that is shared by Vienna Arts Society members is evident not only in their homes, but in their enthusiasm at art shows. Sunday, the Vienna Arts Society held its first reception in its new art center at the Windover building, 243 Church Street, NW. This show featured art by various Society members, including Artist of the Year Richard Neff.
"I like to do scenes of nature, landscapes and especially flowers in their natural setting," Neff said. "I'm a copyist at the National Gallery of Art, so they allow me to come in and copy famous paintings. I learn to be a better painter by copying others."
The gallery also includes the 2018 Healing Wall, created by the Vienna Arts Society and the Fort Belvoir Community Hospital. Volunteers from Vienna have been going to the hospital for five years to allow the service members there to paint puzzle pieces. Society members later connect the puzzle pieces to create the Healing Wall.
"The way the Vienna Arts Society puts them together makes it pop a little bit more, and more of the story of the military members comes out," said Jennifer Pratt, recreation therapist at Fort Belvoir Community Hospital. "One [piece] is just simple, but then when it all goes together, there's a lot more depth."
Painting the puzzle pieces serves as a kind of art therapy and helps the service members at the hospital to heal.
"Surprisingly enough, people who have PTSD seem to come out of their shells when they do artwork. It's cathartic for them and very beneficial," Vienna Arts Society President Hayden Luczka said. "There are literally people who do some of this artwork that never speak, and when they finish with the artwork, they're speaking to the person sitting next to them."