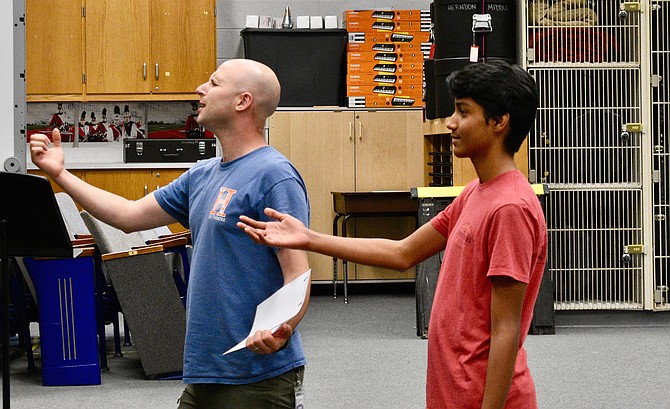 The Herndon High School Drama Boosters Club will present Disney's "The Little Mermaid" based on the Hans Christian Andersen story and the Disney film produced by Howard Ashman & John Musker and written & directed by John Musker & Ron Clements​. Originally Produced by Disney Theatrical Productions.
Disney's The Little Mermaid, a family-friendly, musical adventure that follows young Ariel on her quest for independence—and true love. On the way, meet Ariel's fishy friends and enjoy some unforgettable songs, and, if you have little guppies in your party, check out the magical "Behind the Seas" children's program offered before Sunday's performance.
Performances: Friday, July 27 at 7 p.m.; Saturday, July 28 at 7 p.m.; Sunday, July 29 at 2 p.m. at Herndon Middle School, 901 Locust Street, Herndon.
General Admission Tickets: https://herndondrama.org/tickets/
In Advance Online: $10/student/child and $12/adult; No Service Charge.
At Door: $12/student/child and $15/adult.
"Behind the Seas," Children's Program, 1-1:45 p.m. on Sunday, July 29. Register in advance by contacting Herndon.Theatre.Boosters@gmail.com
Production Leadership Team – includes adults and students:
Director: Raphael Schklowsky, Theatre Director, Herndon High School
Vocal Director: Jane Waldrop, Music Teacher, Clearview Elementary School
Tech Director: Lukas Funke, FCPS Employee (and former Herndon High student)
Assistant Director & Choreographer: Erin Maxwell, Rising Senior, Herndon High School
Stage Manager: Gigi Henriquez, Rising Senior, Herndon High School
Orchestra Conductor: Jeremy Shoop, Director of Music Ministries, Holy Cross Lutheran Church
Costume Designer: Maria V. Bissex, Owner, MVB Costumes