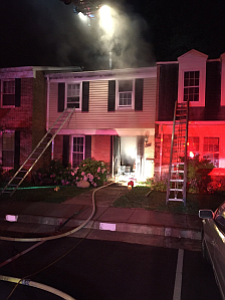 On Friday, July 6, at 10:13 p.m., units were dispatched for a reported townhouse fire in the 8800 block of Surveyors Place in the West Springfield area of Fairfax County.

Units arrived on scene of a two-story, middle unit townhouse with fire showing from the rear of the home. Crews discovered a fire in the basement that extended to the upper floors. The fire was quickly brought under control. There were no reported firefighter or civilian injuries.
There were seven occupants home at the time of the fire. Two adult occupants saw smoke coming from the backyard deck moments before the smoke alarm sounded. One occupant called 911. All occupants self-evacuated the townhouse prior to fire and rescue arrival.
Fire Investigators determined that the fire was accidental in nature and started under the backyard deck. The cause of the fire was a malfunction with the air conditioner unit. An arc event occurred, which subsequently ignited nearby combustibles.

Seven occupants were displaced because of the fire. Red Cross assistance was offered and accepted. Damages as a result of the fire were estimated to be $193,750. Approximately $30,000 of that total is the result of fire damage to a townhouse next door.