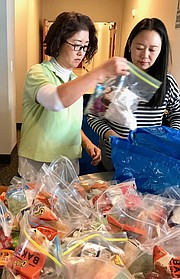 Early Monday morning, Jan. 19, more than 30 families from Open Door Presbyterian Church, located at 2999 Centreville Road, Herndon, helped donate and pack 350 dehydrated meals for Second Story. Second Story, formerly Alternative House, is a nonprofit organization that provides youth services and safe shelter. The organization has been helping teens in crisis, young mothers, and homeless youth since 1972. It has programs in Northern Virginia and serves young people in the Washington, D.C., area and beyond.
On its website, Second Story states the organization, "... transforms the lives of children and youth, helping them stay safe, make positive decisions, achieve educational success, and overcome personal crises. We offer children, youth and families hope for brighter futures by providing counseling, shelter and neighborhood-based support."
Two local civic groups, Love Herndon and Jade Philanthropy Society, organized the volunteer opportunity to celebrate the legacy of Dr. Martin Luther King, Jr. and his dedication to serving others. Children and parents participated in the service event, held on Martin Luther King Day 2018 by donating food and packing the meals.
Christine Bartell, director of Resource Management at Second Story said, "We are grateful for groups and organizations that provide snack packs to our programs so that they will be given out to our homeless and underprivileged youth." Bartell described the snack packs as "dehydrated meals." Youth only need access to hot water to hydrate the contents.
Love Herndon, one of the two organizers of the volunteer event, is a bold outreach initiative of Open Door Presbyterian Church in Herndon. The church formed the initiative to connect people and build community in their neighborhood.
According to the church's website, Love Herndon aims to provide "Loving service for our neighbors throughout Herndon (and) radical hospitality for guests on our community campus." Love Herndon often performs service projects to help the needy, feed the hungry, and show appreciation for first responders.
Jade Philanthropy Society, the second of the two volunteer service organizers, was founded in 2011. It is a not for profit civic organization. Its stated mission is: "...to encourage and facilitate local philanthropy by Asian Americans in the Washington, D.C. metropolitan area; and, to recognize, nurture, and promote current and future Asian American non-profit leaders and philanthropists."