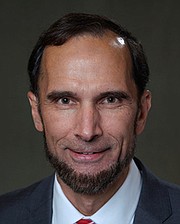 As I reflect on the many achievements of the past year in our region, I am more excited than ever about the future of the Mount Vernon District! Throughout Fairfax County this past year, we celebrated our 275th Anniversary, launched One Fairfax to promote social equity and approved a Police Body Camera Pilot Program. Here in Mount Vernon, revitalization and renewal are well underway. From new redevelopment projects like Lorton's Liberty and the Huntington Club, to transportation improvements such as the Richmond Highway widening from Jeff Todd Way to Telegraph Road and updating our Comprehensive Plan to allow for future Bus Rapid Transit (BRT) and Metrorail on Richmond Highway, change is the new normal! Although many changes are on the horizon, we will also continue to respect our history and heritage.
As we modernize, other District advancements include establishing new community advisory committees to oversee the Original Mount Vernon High School redevelopment, the Lorton Community Center and the South County Police Station and Animal Shelter development. The South Flow Alliance was created to advocate for decreased airplane noise, while the District Domestic Violence and the District Environmental Advisory Committees will advance constituent services and environmental causes. While launched in 2017, this year these committees will be actively engaged in bringing community focus, ideas and leadership to these endeavors.
In the last week of 2017, the Covanta Fairfax Energy-from-Waste Facility reopened after a fire earlier in the year. Although this started in tragedy, the improved safety features and enhanced public communication plan developed during the renovation process are expected to benefit the District and its residents for decades to come.
In 2018 we plan to continue advancement and renewal in the District. Some key 2018 results expected are:
The Police Body Camera Pilot at the Mount Vernon District Police Station will provide an opportunity to improve public and police safety throughout the District.
The National Park Service will study safety and traffic patterns on the George Washington Memorial Parkway, leading to improved travel and increased safety.
The District Domestic Violence Committee will be working to increase awareness and existing support systems, as well as continuing to plan to open a local shelter.
The next phase of Richmond Highway widening from Jeff Todd Way to Napper Road will advance to design phase, bringing it one step closer to fruition.
Six schools in our District will continue or complete their renovations.
The new Lieber Gate at Fort Belvoir will open this summer.
The Backlick Road Railroad Bridge will open this fall, with two more major railway improvements in planning stages, improving the I-95 Corridor commute.
EnviroSolutions, Inc. (ESI) CDD landfill will begin the process of closing the facility, as it stops accepting debris in Fall 2018.
In addition, we will continue to bring you great community events throughout the year. Key events will include the Feb. 3 Town Meeting, the Ides of Bark Dog Festival, the Mount Vernon Nights Summer Concert Series, Tour de Mount Vernon Community Bike Ride and the Holiday Open House. We will also look for opportunities to educate and inform our community through events like the District Forum on the County Budget, Teen Job Fairs, the Senior Safety Summit and a Rabies Clinic, to name a few. See planned events listing below.
As you consider what this new year brings for you, resolve to engage in your community in 2018! We want and need you! There are many ways to be active, from trash cleanup days to joining a District Board Committee. Come to the 31st Annual Town Meeting on Feb. 3, at Mount Vernon High School to find out more about our District and how to get involved. The day will begin with the Exhibit Hall opening at 7:45 a.m., followed by the Program, Audience Q&A's and a Virtual Tour starting at 9:30 a.m. Visit our website for more information on how to connect with us! #ConnectMVD
As always, it is my pleasure to service as your District Supervisor. I welcome your feedback and want to hear from you. Please contact my office at mtvernon@fairfaxcounty.gov or 703-780-7518, any time with any issues, concerns or suggestions!
2018 District Events
Feb. 3: Town Meeting
Feb. 7: District County Budget Forum
March: Development Forum
March 6: Board Authorizes Maximum Real Estate Tax Rate for FY2019
March 18: Ides of Bark Dog Festival
March 13/15: Tax Relief Forum
March 17: Teen Job Fair at South County HS
April 14: Teen Job Fair at Mount Vernon HS
April 29: Rabies Clinic
Spring: District Boards, Authorities and Commissions Representatives Meeting
Spring: Community Walk
Spring: Trash Clean Up Day
May 24: Board Adopts FY2019 Budget
Summer: Senior Safety Summit
Summer: Mount Vernon Nights Summer Concert Series
June 30: Workhouse Arts Center Fireworks
August: Deer Management Meeting
Aug. 4: Workhouse Brewfest
Aug. 7: National Night Out
Oct. 27: Tour de Mount Vernon
Dec. 6: Holiday Open House.