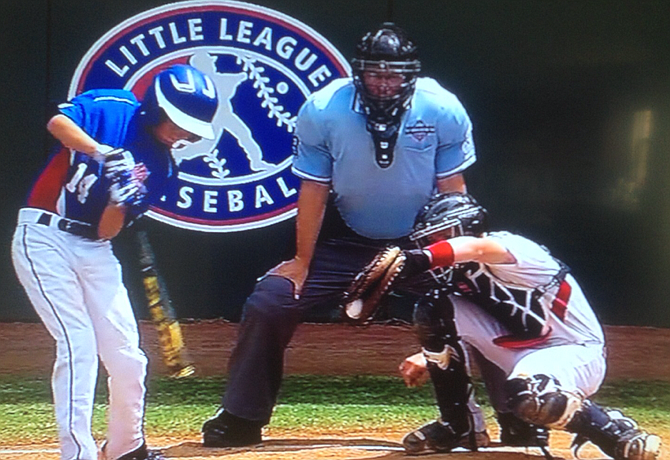 After umpiring Little League baseball games for more than 20 years starting with the Central Springfield Little League when his boys were small, Mark Smith, 57, of Springfield got the thrill of his lifetime when he was chosen to umpire the Little League World Series this week in Williamsport, Pa.
"I'm ecstatic; it's what I've been striving for as an umpire for 15 years. It's what Little League is all about…it's what everyone sees on TV in August. It gives me great pleasure and I'm glad I have the opportunity to go do it," said Smith, a civilian who works as naval architect at Washington Navy Yard.
"For a Little League umpire, this is huge. It doesn't get any bigger. This is the Stanley Cup of Little League baseball. As far as Little League baseball, there will be millions of people watching worldwide."
In Williamsport, where the Little League has existed since 1947, there will be 16 teams competing – eight U.S. teams and eight international teams from Seoul, South Korea; Australia, Canada, Puerto Rico, Barcelona, Spain, Japan, Panama and Mexico. "They all come from Regionals so for a Little League umpire, this is what we refer to as the 'Golden Ticket,'" he said.
THE EVENT features an opening-day parade on Wednesday, Aug. 15 with 10-, 11-, and 12-year-old Little Leaguers and umpires marching through town. Ozzie Smith, the former shortstop for the St. Louis Cardinals, will be the Grand Marshall. It will be televised on ESPN and ABC-TV; the Opening Ceremonies start on Thursday, Aug. 16 at 11 a.m., and games begin at 1 p.m. and continue through Sunday, Aug. 26 at 3 p.m. when the championship game is scheduled. There's room for 3,500 people in the stadium.
At this point, Smith doesn't know his position yet as assignments are given out the night before the World Series games begin. He will eventually be doing all of the positions at least once during the tournament: home plate, first base, second base, third base, right field line and left field line.
Smith started umpiring when his boys (Gregory, now 26; and Bryan, now 25) played at Central Springfield Little League (CSLL). While at CSLL, he became the UIC (Umpire in Charge) for five years and was responsible for training local umpires, scheduling and actively umpiring. Eight years ago, he became the Chief Umpire for the Virginia District 9 Little League, which is made up of 10 leagues from Springfield to Quantico.
"As the boys moved up in age, I decided to get into the umpiring. I started out as a coach in T-Ball, and when the kids moved up to kid pitch, I started umpiring 20-21 years ago," he said.
Over the years he has umpired at numerous local, district and state tournaments. In 2013, he was chosen as one of eight volunteer umpires to officiate at the Southeast Region Tournament (Virginia, West Virginia, Tennessee, North Carolina, South Carolina, Georgia, Alabama and Florida) in Warner Robins, Ga.
He has continued to umpire at the local, district, state and regional levels, as well as being the UIC for District 9 in Virginia. This year he was evaluated by the Southeast Regional staff and selected to go to the World Series. The Southeast region is being represented by a team from Peach Tree City, Ga.
Smith says umpiring of 40-50 games a year is strictly volunteer; he gets a small stipend for the hotel and travel to the World Series. He said the qualities that make a good umpire are: "Focus; having a thick skin; staying involved in the game and not letting things outside the fence distract you. The biggest thing is training, staying involved, keeping yourself up-to-date on the rules changes and mechanics changes. Every year there's minor changes and little tweaks."
He added: "I think all umpires strive to be fair and non-biased. When you walk off the field, you don't want to be recognized for showmanship or boastfulness. You want to almost be an invisible part of the game."
SMITH, who lives in the South Run Crossing community, is married to wife Andi, 57. The couple also has a daughter Molly, now 23. He graduated from the U.S. Merchant Marine Academy in New York.
According to Andi: "He found something that he loved and I'm happy to support him on that. I go to most of the games, regions and state tournaments. I used to run the concession stands and he would take care of the umpires. This is our 22nd year in the Little League. We stepped up pretty quickly to be the volunteers which is what makes this program run so well – which is the volunteers who support it from the umpires, the coaches, the managers, team parents, concession stands and the Board of Directors."