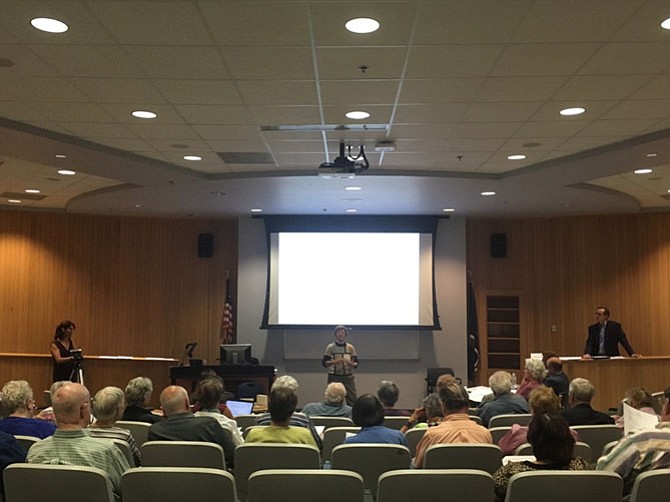 Alexandria — A local church's slated affordable housing project faces design opposition from neighbors.
The Episcopal Church of the Resurrection is leasing a portion of its land on the West End for a 5-story all-affordable apartment complex. The congregation believes part of its social "mission" is to help meet the city's mounting need for affordable housing.
"It became clear that we should put our property where our mouth was, where our prayer was," said the Rev. Jo Belser, Resurrection's pastor, at a Beauregard Design Advisory Committee (BDAC) meeting Monday evening.
The meeting's purpose was for BDAC, comprised of community representatives, to evaluate the project's adherence to the Beauregard Small Area Plan's design requirements. The committee must complete its task in time for the project's public hearing in January and federal tax credit application in the spring.
Residents from Goodwin House, an Episcopal-affiliated retirement community adjacent to Resurrection, also turned out at the BDAC meeting. After nearly two hours of presentations from the project's architects and questions from BDAC members, the retirees voiced near unanimous discontentment.
Some of the residents' concerns had to do with safety: where children from the new apartments will board their school bus; children's safety in the U-shaped apartment building's central courtyard; whether congestion from the apartments' parking garage might impede ambulance access to the retirement community.
Many Goodwin residents' concerns had to do with esthetics.
"Unfortunately all three of the speakers on behalf of the applicant talked a lot about the use and how that has … impacted their design," said Catharine Puskar, Goodwin House's attorney. "We heard about the project needing to throw off enough money to build the [replacement] church. We've heard about how we can't change windows because of economics. We've heard about the use of materials because this is an affordable housing project. … Goodwin House, Inc. has said that we accept an affordable housing building here. But … that doesn't give the right for the building to have any less quality of design than you would expect of a market-rate building."
Several speakers criticized the appearance of the building.
Two speakers approved of the design and the underlying purpose to provide affordable housing.
BDAC will schedule another meeting, tentatively Oct. 23, half of which will be reserved for additional public comment. Related materials are available online at www.alexandriava.gov/BeauregardPlan.