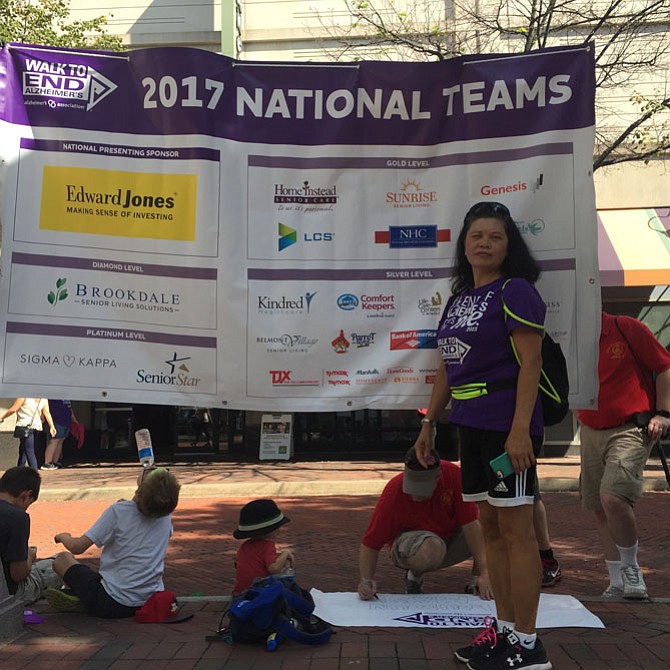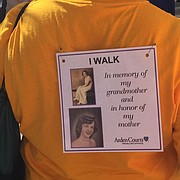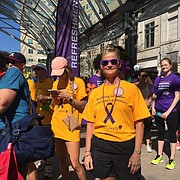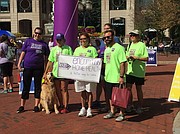 Nothing brings together support for Alzheimer's like a two-mile stroll through Reston Town Center. Alzheimer's Walks gather family members, caregivers, friends and colleagues to rally around finding a cure for this devastating disease.
This year the Alzheimer's Association Walk to End Alzheimer's in Northern Virginia in Reston raised more than $267,000 to go towards support, care and research for the disease.
Sherry Gryder was the leading single-fundraiser of the event. Her mother and grandmother were both afflicted with the disease and she now walks for them. By hosting events at restaurants like Pinkey and Pepe's Grape Escape and Joe's Crab Shack she was able to raise $15,000. Vicky Krause, her sister, was also there and shared that the two competed against each other to push each other to raise more money.
The Alzheimer's Walk is valuable because it brings together people who understand how much the disease affects Americans. Nearly one-third of the population over 65 has some form of dementia. One in three seniors dies with Alzheimer's or another form of dementia. The disease can not only damage relationships with family and friends but destroy a retiree's hard-earned savings.
Jocelyn Hurradura, a caregiver at Sunrise Senior Living, said she sees the disease first hand in nearly 75 percent of her patients. Hurradura is one of 15 million caregivers that play a critical role in assisting people living with Alzheimer's.
Each year the event hopes to raise enough money to eventually find a cure. Research and scientific organizations benefit from money raised at Walks.
One such organization is Integrated Neurology Systems. Lisa Wegner, a representative of INS, explained how their study focuses on slowing early onset Alzheimer's by isolating the protein Tau.
One of the recurring emblems of the Alzheimer's Walks is the distribution of the Promise Garden Flowers. Each participant is instructed to carry a certain color flower on their walk, to signify the diverse reasons for why they walk. The blue flower represents someone with Alzheimer's or dementia. The purple flower represents someone who has lost a loved one with the disease. Yellow shows someone who is currently supporting or caring for someone with Alzheimer's. Orange is for everyone who supports the cause and vision of a world without Alzheimer's.
With the support of loved ones and caregivers Alzheimer's can be limited, which is hope for future generations dealing with this disease.