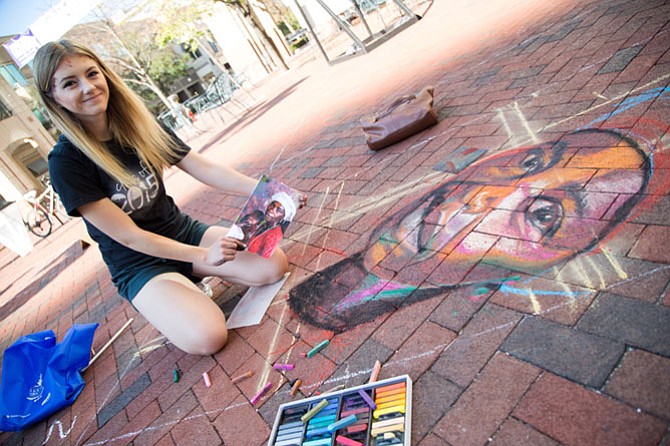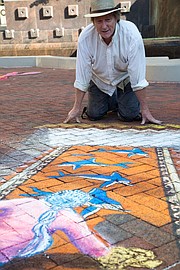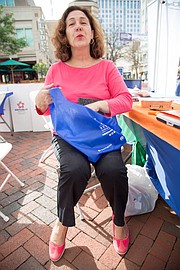 Saturday was Chalk Fest in Reston Town Center, where families, professional artists, and anyone wanting to make chalk art on the streets could register for a spot to decorate the Town Center. The event was led by Public Art Reston and sponsored locally as a fundraiser to create more public art in Reston.
"ChalkFest is similar to an event held by Savannah College of Art and Design where art students can draw on the street," said Anne Delaney, Executive Director of Public Art Reston.
The event has been going on for four years and the turnout this year reflects that it's been catching on with the public as well as professional artists.
"We have developed a sense of community here with the artists. There is a spirit of sharing and supporting each other, like being kind and sharing chalk," said Delaney.
Professional artists couple Phil Erickson, a former Reston resident, and Penny Hauffe worked side by side at the ChalkFest Saturday. "The fest is fun, just regular people get to stop and chat, it's about people who appreciate art!" said Hauffe who is in her fourth year participating in the event.
"There's also something fun about using chalk in a public place," she said.
"I have fun hanging out with the other artists. It's like building sand castles at the beach, it's temporary art for the public," said Erickson.
"We've had some good turnout online and new professional artists and new skills," said Abbie Funling, a Reston resident and program assistant with Public Art Reston.
ChalkFest had 100-120 registrations this year, and two or three times as many people were expected to show up Saturday. There was an audience choice award as well as an official judging. Professional artists had the largest chalk art spaces. Awards were given out for best in professional, amateur, and families and children.