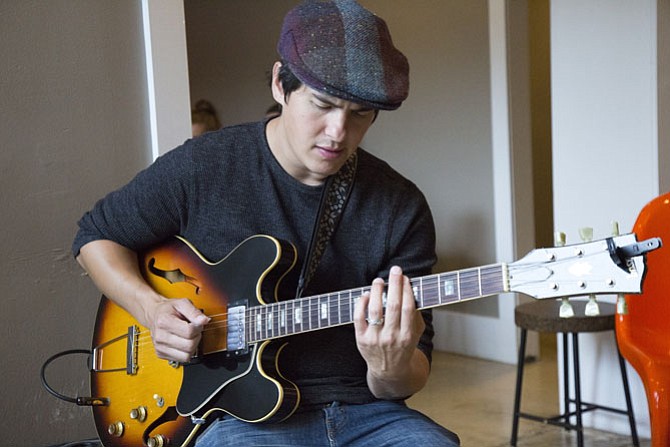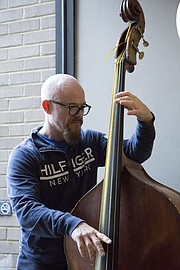 The 11th Annual Lake Anne Jazz & Blues Festival on Saturday, Sept. 2, was rained in.
The musicians scheduled to perform were supposed to play outside on the plaza, but the area received 0.66 inches of rainfall and 6-mile-per-hour winds with gusts of up to 16 miles-per-hour, according to the Weather Company, LLC. Instead, some of the musicians performed inside at Kalypso's Sports Tavern, Lake Anne Coffee House and Wine Bar, and Lake Anne Brew House.
"When we found out rain was going to wreck our fun, the musicians were here anyway, so we turned it into an indoor jazz crawl," said Melissa Romano, owner of the Lake Anne Brew House. "Three of the merchants agreed to hire them out."
Those who braved the rain and trekked out to the plaza were greeted with a banner that said, "Rained In Jazz Hop. Escape the rain with us as we jazz out inside!"
John Lee of Washington, D.C., and Mykle Lyons of Reston were the first to play at the Lake Anne Brew House at 2:30 p.m.
"I just started listening to improve," Lee said of jazz music. "Jazz is a type of music that takes a lot of study and learning and listening. Once you understand, you stick with it for a long time."
The duo played instrumental jazz standards — Lee on the electric guitar and Lyons on the double bass — while patrons drank craft beer and snacked on freshly-baked soft pretzels that were available for purchase from Nordic Knot bakery of Reston.
Guitarist and vocalist Jeff Welsch performed after the duo at 5 p.m.
Saxophonist Vaughn Ambrose and guitarist Michael Kramer started playing live at Kalypso's at 3:30 p.m. and percussionist and vocalist Gigi MacClaughlin of Reston started playing at 6:30 p.m. on the second floor of the Lake Anne Coffee House and Wine Bar.